The Lonely City: Adventures in the Art of Being Alone
Tweet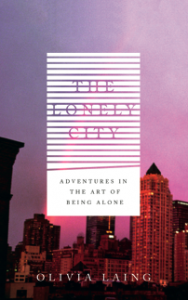 From its title, Olivia Laing's book The Lonely City: Adventures in the Art of Being Alone might give the impression of being some solemn self-help manual or brooding biography; instead, it is an honest and heart-wrenching exploration into one of life's inexplicable plagues: loneliness. Finding herself alone in an altogether unfamiliar and alienating city, Laing seems to have fallen into step with many of her lonely subjects. She inhabits the same places and ultimately the same mind-set as those she writes about. Raw, blunt, yet compassionate, Laing embarks on a journey through the lives and times of some of New York City's most renowned citizens. This book is part art history, part cultural commentary, and is as much about self-discovery as it is about the subjects themselves.
Making a path through New York, Laing shares the tales of the lonely, illuminating their situations and "pouring light into hidden places". We are introduced to great and controversial figures, such as Andy Warhol, Henry Darger and David Wojnarowicz, all of whom experienced what it is to be lonely. This is not an attempt to console those presently lonely, as Laing explains that no one can share in their loneliness or comfort them further. Being alone is understood to be an experience unique to the individual, as can be seen in the diversity of accounts and stories discussed.
Given the serious tone of the book there are moments where Laing is in danger of "swimming into blackness" and pulling the reader in too deeply with her, but the lyricism of her words and the attitude she has towards her subject keeps the overall tenor sufficiently light. Laing writes in a beautiful style, even when discussing some of the more ugly aspects of life. The book is encouraging, even life affirming at times, as Laing explores some of the many cures for loneliness. The story of one lonely soul runs into that of another; one life bleeds into the next. As with Laing's previous book The Trip to Echo Spring, the transitions between individual biographies aren't leaps, but are fluid, so as not to jar.
With summer holidays upon us, it seems that this book couldn't have come at a better time. It is widely acknowledged that holidays are a lonely time for many and perhaps this examination into life adrift from society and social connection is needed, if only to ignite action against isolation. Loneliness is a contemporary concern, with TV campaigns, charities and news reports to address this very private plague which countless millions of people experience, and which surprisingly often engenders shame. It is unsettling that those who are lonely are pushed even further into isolation by the painful embarrassment they feel in admitting their situation. Perhaps The Lonely City could help break the silence that still surrounds loneliness.
In an age where subjects which were formerly taboo have now been openly discussed for some time, it is heart breaking that the state of feeling alone still remains shameful. Many previously unmentionable issues such as homosexuality, prostitution, sexual deviancy and sexual disease which are still somewhat controversial today are considered by Laing herself as she examines the lives of New York's loneliest people. It is clear by her descriptions that the shame which accompanies loneliness is incomparable to that which relates to other issues.
The Lonely City is not just a mishmash of biographies but an exploration into the most private of emotions. Artists, filmmakers, songwriters, sociologists, psychiatrists and philosophers have all tried to do what Laing is attempting with this book but has Liang succeeded? Not entirely. However, she has gone a great way towards giving meaning to an otherwise meaningless and painful part of life and in doing so, has created something wholly worthwhile.
Larissa Woods