Tweet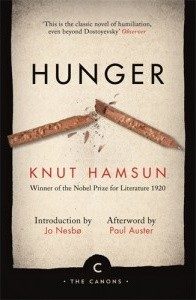 Knut Hamsun (1859 – 1952) was born into poverty in the Norwegian municipality of Lom; his early years were predominantly filled with what have become joyless, and often painful memories. He eventually found refuge in the world of literature, which he did not abandon until his death. His name was established with Hunger (1890), followed shortly by Mysteries (1892) and Pan (1894), all of which were highly admired well beyond the margins of Europe. Canonical figures such as Kafka and Lawrence were influenced by Hamsun's new style and a great deal of their work imitates it. His influence stretched as far as America, where Hemingway praised him and recommended him to Scott Fitzgerald. Hamsun took the Nobel Prize in 1920 with his superb Growth of the Soil (1920); however, it was Hunger that earned him world-wide recognition.
The novel unfolds on the streets of Kristiania (now Oslo) in the late 1800s. The protagonist is a starving young writer, whose name is never firmly ascertained but rather is always being adjusted according to the various situations in which he finds himself. His mercurial personality turns his accidental encounters with others into deeply ironic, often even farcical scenes, clearly revealing his witty and mendacious imagination; such as the chance meeting with the stable boy which turns into a skit when, contrary to his desire to ask the boy for money, he is the one being asked for five kroner.
I threw myself on my bed and laughed. What a lucky dog I was to have him steal a march on me! My honour was saved. Five kroner – good grief, man! You could just as well have asked me for five shares in the Steam Kitchen or for an estate out in Aker township.
Underlying the story, Hunger becomes one of the first novels (many claim it is even the first), to fully develop the 'stream of consciousness' narrative mode. The main figure is a 'self-unravelling' character and in this seemingly plotless narrative, his thoughts are all the reader follows. "What interests me is the infinite susceptibility of my soul, what little I have of it, the strange and peculiar life of the mind, the mysteries of the nerves in a starving body," Hamsun says; and this is exactly what he delivers – a fictional hero, whose pathos and absurdity spring entirely from within his own self. He constantly offers money to people, even though he has none; contrary to all reason, he even almost parts with his clothes for the sake of his nobleness. The character's nemesis is thus caused not by hunger, but by his own psyche.
The Noveau Roman reveals the fictional hero on his own terms; roaming the urban landscape in an agonizing hunger, chewing on wood chips, brown orange peels or bare bones, twisting every scene through his own prism, to his own liking, until finally comprising all experience according to his own rank:
The intelligent poor individual was a much finer observer than the intelligent rich one. The poor individual looks around him at every step, listens suspiciously to every word he hears from the people he meets; thus, every step he takes presents a problem, a task, for his thoughts and feeling. He is alert and sensitive, he is experienced, his soul has been burned . . .
This year's edition of Hunger, again skilfully wrapped by Canongate, contains the cleanest and most sophisticated outlook of the highly rated authentic novel by Hamsun. Sverre Lyngstad's English translation from 1996 is here, still unchallenged as the finest ever  of the book. And for those serious readers, who hanker for the quintessence of this Norwegian story, in all its stylistic complexity and lexical semantics, Canongate and Lyngstad have put much effort in providing a microscopic analysis of the faultless translation. Jo Nesbø introduces the novel in two pages in a shrewd style which immediately makes the reader genuflect to Hamsun even before the first page.
Simeon Gatev