Tweet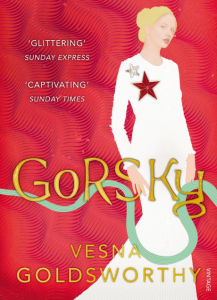 Gorsky is Vesna Goldsworthy's first novel, although she has previously written a memoir and a poetry collection. She moved to London from Belgrade when she was 25 and she writes in English, which is her third language. Gorsky is a re-telling of The Great Gatsby, set in the twenty first century London. Throughout the novel, the main character, Nikola, gets closer and closer to London's high society, especially to the titular character Gorsky, a very rich young Russian man who came to London to seduce again the love of his life, Natalia (a young Russian woman married to a rich Englishman). Nick, who has a PhD in English literature, works in a little bookshop near Gorky's palace, which the latter built in the same street as Natalia's home and he helps Gorsky to find books in order to build up his private library and impress Natalia in the process. Nick himself is from a Northern country, and he does not seem to enjoy London very much. Natalia moved to London with her husband, but she seems to feel the same way about the population of London as Nick does and is very critical of them: "I don't even think that strawberries and champagne go together. The English have the palates of small boys."
The obvious similitude with Gatsby makes the novel a little bit predictable. The names are mostly the same (Nikola's nickname is Nick for instance) and the plot is very similar. The novel also takes some time to really take off: we only meet Gorsky in the fourth chapter and the action moves much faster from thereon in. Vesna Goldsworthy says in an interview for the Baileys' women's prize for fiction that "Fitzgerald fans might love or hate what I did, but they already have their favourite book", and she is right. Rewriting is a very hard exercise, and in this case, it is quite well done. Even if the plot is the same, Gorsky has its own characters and a very different atmosphere from The Great Gatsby. I couldn't see any other way of re-writing this novel, and yet Goldsworthy has done it perfectly.
The writing is fresh, and the use of French words adds to the general smartness of the novel. It is very easy to read for people like me, whose first language is not English, because Goldsworthy's first language is not English either. Her sentences are very pure and short. The perspective of London given by the novel is very interesting and well set. We have an external point of view on British culture, as almost all the characters are East Europeans and, in addition, Goldsworthy herself is not originally from England. Essentially, the viewpoint is that of strangers coming to London, mostly based on how they have been welcome in this new country.
One of the most interesting elements of the book is that we learn a lot about Russian culture within an English setting. They are not necessarily the community we consider first when we think about London, and this aspect makes the novel even more enjoyable. The numerous references to Russian literature for instance make the narrative even richer, even if sometimes we may feel like we are missing something if we are not previously aware of Russian culture. As a result, the novel is successful in making the reader want to discover more about East European literature and art, as well as being a successful retelling of a classic tale in its own right.
Maylis Le Creurer