The Portable Veblen (Shortlisted for the 2016 Baileys Prize)
Tweet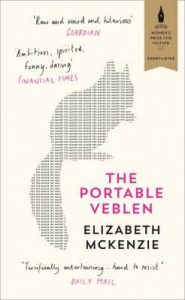 Family dramas have always provided writers with fertile subjects for comedy or tragedy; witness the grandeur of Shakespeare's King Lear or the melancholy of Elizabeth Strout's My name is Lucy Barton, a small gem of a novel longlisted for the same Baileys Prize this year. The Portable Veblen is Elizabeth McKenzie's exuberant and surreal comic exploration of family or soon-to-be family relationships. Veblen Amundsen-Hovda, an "independent behaviorist, experienced cheerer-upper, and freelance self" and temp meets Paul Vreeland, a neurologist, quite by chance when the former is sent by her line-manager to deliver some papers ("the envelope of destiny") to the latter who is slicing and dicing some small rodents' brain matter. This begins a love affair and a clash of worlds as Veblen, named after anti-capitalism theorist Thorstein Veblen, is instinctively against commodification and consumption and Paul, a young man on the rise and proverbial rabbit caught in the headlights, is initially bowled over by corporate pharmaceuticals in his giddy rise to power. As the focalisation switches and readers are made privy to their anxieties and doubts about their suitability, differences and their vulnerabilities, these provide gentle humour in the opening stages of the novel.
When you marry, you marry into your spouse's family also and so it is with The Portable Veblen as we meet the wider family circle on both sides. Veblen's mother Melanie as a manipulative and neurotic hypochondriac, Paul's childlike and bad-tempered attempts to gain attention from and his hippy parents (who are mostly stoned or preoccupied with his equally truculent and disabled brother) make for funny individual portraits and also generic set-pieces that are rendered in the riotously comic vein of Jay  Roach and Nancy Tenenbaum's Meet the Parents trilogy. Add rodents – specifically squirrels – into the mix, and there you have a kind of deliciously barmy whimsy. Why squirrels? Because Squirrel Nutkins is irrepressible; because squirrels are wild but can live close to humans; because that fine path between animal and human enables us to understand Veblen's character (her childhood fantasies revolve around creating whole worlds populated by these human-rodents), as well as the novel's moral agenda: the wrongheaded ways in which man as alpha animal advances on the world. This ethical turn returns us to Paul as the startled rabbit caught in headlights.
As the fictional canvas broadens out, we see that the staid middle class aspirations – wife, house, job and car – is part of Paul's rebellion and his adult life is governed by a desire to wipe out the perceived failures of his past. Paul's story enables McKenzie to move from domestic comedy to political satire as the young man's pneumatic  trepanning tool for use in situ in combat traumas is taken up by the powerful pharmaceutical and defence industries. McKenzie's satire is not far off from Joseph Heller's Catch-22 even if it isn't as sustained; her attentiveness to the exclamatory language of hyperbole in advertising made me chuckle, "Reconstruct large, vulnerable openings (LVOs) in the cranium! Fully inert in the human body, immune to attach from bodily fluids! Cosmetic deformity correction to acceptable levels!" In addition, the acerbic presentation of medical marketing is hilarious: "CopsaireTM Sachet — Helps Eliminate Unpleasant Corpse Odors, [those] Putrid decomposition vapor[s that] can result in loss of morale and create negative publicity if they escape the building".
The Portable Veblen is a feel-good novel. Thus while there are some unpleasant truths laid out for readers to see, blows are never malicious nor is the comedy ever really dark, and the novel's close, as a genre piece, is always likely to bring people — even unlikely ones — together. Various strands are pulled together in McKenzie's thematic preoccupation with satirising consumer society, the language that supports this, and the way we all find "excuses for shopping sprees". Yet for all of my enjoyment of the set pieces, hilarious enactments and appendices, some of the stitching between stories feels just a little contrived. But this is more to do with my difficulties with the genre. Having said this, there is probably an enjoyable cinematic comedy in the pipeline.
Gail Low