Tweet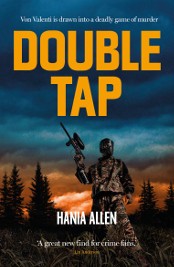 In her second piece of crime fiction, and providing a sequel and new story to her 2014 novel Jack in the Box, Hania Allen's Double Tap sees protagonist Yvonne 'Von' Valenti, now a private investigator, faced with a missing person's case. This instalment offers the intrigue of a murder case being investigated by Von's former colleague DI Steve English which inevitably links into Von's own case.
In Double Tap the story moves up north of the border to Edinburgh, where Von is investigating the disappearance of Phil Pattullo, the homeless son of a chef at the Balmoral hotel. At the same time, two bodies are discovered at a local paintballing arena where both victims have been murdered in exactly the same professional manner, with a shot to the heart and another to the head, resulting in the term "double tap". As the plot develops, both Valenti and English learn that their investigations and those involved are all connected.
This second outing for Von delivers a steady paced plot which holds a certain degree of intrigue but does not do much in the way of gripping the reader overall. This is due to the fact that there seems little at stake throughout the plot until the tail end of the novel. The sense of mystery or uncovering is present at a number of points, although not in abundance. This sense of tension and compelling detective work is something which could be built upon because when it does appear it is encouraging and intriguing to read.
The language used to narrate the story is also of interest: told from an extra-diegetic perspective in a style which is at times very informal, it gives the impression that the thoughts of the characters are being displayed. In addition, the novel is written in a rather un-romanticised manner without the use of any exaggerated description or metaphors which adds to the aesthetic of a detective or crime novel. We see the world of the novel through the available facts and evidence just as a detective might.
Perhaps the most interesting and engaging aspect of Double Tap lies in Von's relationship with her daughter. The moments in which Allen gives an exposition on their past and their sentiments towards each other are often the most pleasurable to read. In these instances Von is a much more fleshed-out character with whom we can perhaps sympathise because of her on-going struggle to connect emotionally with her daughter while simultaneously providing for her through her work, which inadvertently causes them to become even more distanced from each other.
Towards the end of this novel Allen resorts to using a rather clichéd hostage scenario in which the mother-daughter relationship is tested by having Von's daughter being involved in the case she is investigating. In addition to this, many of the other characters involved in the crimes are all too easily disposed of. The resolution of the plot and main reveals and twists are similarly unrewarding, which is mainly to do with the fact that it is done in the fashion of "I'll tell you my entire plan and then I'll kill you" .
Ultimately, Double Tap is a serviceable piece of crime fiction which seems somewhat mild in its crime and action considering this is a genre in which it is difficult to stand out. If this series is to continue, it would be worth employing more complex situations or cases. Perhaps the crimes themselves could be depicted in a more in-depth and violent manner so as to give those elements a stronger and more distinctive impact.
Hamzah M. Hussain