Tweet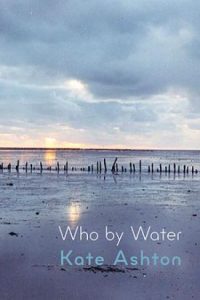 Kate Ashton was born in Scotland and trained as a nurse in Edinburgh, after which she moved to London to work on Nursing Times. She has previously published fiction and non-fiction, reviews, and has worked in translation and in journalism ( mainly in the Netherlands), from 1979 to 2003. Her memoir, Losing Eric Gill's Eden, is forthcoming. She now lives in Nairn, on the Moray Firth. Who by Water is her first full poetry collection.
Although much of the collection is written in free verse, there is nonetheless a tight structure within each poem that is bound by traditional poetic forms. This adds to, rather than detracts from, the poetry's lyricism and grace.
Many of the poems sound like incantations; they weave spiritual intensity with a pervading sense of the coolness of the sea, winds, reflections and that particular mirage-quality of seashore light. They contain themes of myth and fantasy, loss and separation — the sense of the sea-shore as a mutable boundary between life and death, a place to ponder on bereavement. Indeed, such open landscapes often allow emotions to surface, unconstrained by built areas, crowds or business.
The first poem in the collection, "Half by Half We Sleep" suggests the beginning of a relationship. Ashton uses the shore imagery to imagine the lovers
stranded high
above tideline on shore
of age-stroked stones, a gift,
a present each to each[.]
This poem presents a freshness, an optimism experienced by the new lovers. However, the tone of the collection soon moves to a more seasoned, contemplative mode in which  the poet explores loss and bereavement.
There are several long poems (or grouped poems) in the collection; "The Mystery of Glass", which opens with a discrete poem suggesting mourning for a dead sister, continues through various sections, each surtitled  in lower case letters. These short-lined verses offer essence of nature; wind, rain, flora are minutely examined. The experience of intense grief can often lead an individual to focus sharply on largely unnoticed phenomena in nature, as time itself seems to slow. This very likely the same process that the poet is illustrating. Later in the cycle, a verse titled "then" takes on a straightforward linear narrative, investigating the chemical makeup and qualities of glass as detailed through a memory of the poet's great grandfather. Even here, Ashton invokes images and scents of the seashore, connecting glass with silicon from sand.
"She Who Weeps", a prose-poem, is divided into numbered and titled sections, while the titular "Who by Water" is similarly ordered, as is "Waddenzee", which is broken up into numbered stanzas of 20 lines. The lines of each stanza are enjambed, and there is often only one word to a line. The of "Waddenzee"  each have a very strong, flowing rhythmic quality; they read like sonnets, despite the lack of a strict stress pattern. They trace a history of the Dutch landscape and the progress of humankind on its reclaimed land. Ashton repeatedly invokes elemental forces of nature-light, tides, the seasons' progress by her use of mystical imagery. This  poem seems to lead us to contemplate profound truths about the effect that nature still has on our lives.
Come
Again, the word whispered from
Wave to
Wave or writ in wind upon the
Wing on
Every made and unmade
Thing[.]
The final group of poems, "Yellow Sampan", is a collection of short verses dedicated to the Chinese poet of antiquity, Li Po and written in a style that is suggestive of Taoist simplicity and precision.
Throughout Who by Water , Ashton seeks to remind the reader that the inner world of contemplation and the outer world of the sea and shore can combine to offer solace in grief and an acceptance of difficult realities.
Jenny Gorrod