Tweet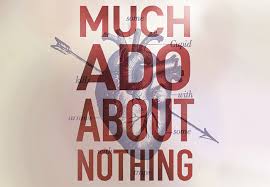 The performance of Much Ado Abut Nothing by the Dundee Rep Ensemble, directed by Irene Macdougall, was fantastic, entertaining and frequently hilarious.  Ken Harrison's set was a simple yet impressive affair of Mediterranean tiles, ornate lights and transparent walls; the grand, uncluttered setting allowed the performers room to bring this Shakespeare comedy of love, Sicilian court politics and mischievous shenanigans to life.
After a little bit of a slow warmup, the pace was fast,  a sense of glee from the actors prevented the hatching and unfolding of the plots from feeling rushed.  Despite my never having seen this play performed before, its plot was familiar; as the final play in Dundee Rep's love season, this play has, down the centuries, been used  by artists for what it has to say about love. As pointed out in the brochure, it's astounding that the work of someone who lived in the 16th century resonates as much now as then.
Benedick and Beatrice, the spiky, confident couple who disdain the idea of marriage,  are tricked into believing that each loves the other.  In the Shakespearean script, Hero (Marli Siu) and Claudio (Ewan Sommers) are young romantic lovers, whose path to true love and marriage is easily thwarted by the suitably sinister Don John (Ali Watt) and Borachio (Ewan Donald), with a malevolent plan that shows up the shallow nature of the couple's romantic love. The plan and Claudio's ungallant behaviour wouldn't be unfamiliar to those who read social media more than Shakespeare! Hapless Claudio was played well by Sommers, and when the masterful Leonato (Billy Mack) makes him reluctantly agree to marry Beatrice I was stifling laughter right through the next scenes.  Robert Jacks performance as Benedick  was frenetic and hilarious, his dishevelling into a state of near frenzy after being informed that Beatrice loved him was a joy to watch. Emily Winters was brilliant as the quasi-reluctant Beatrice and moved me to laughter, and later tears, after  hearing about her cousin Hero's misfortune.
Annie Louise Ross (as Verges) and Antony Strachan (as Dogberry) had brilliant comic timing, and both performances were a riot of physical comedy and priceless facial expression. Margaret, played by Jo Freer, had me laughing whenever she opened her mouth. In fact, the whole performance has so many lovely touches of comedy throughout that it would be worth seeing again to catch them all. The dancing (choreographed by Emily-Jane Boyle) was perfect and funny – and in the final dance, when Don Pedro (Barrie Hunter) was left with no partner, the pathos is perfectly realised.
When Don Pedro is first refused by Beatrice, and when Beatrice is upset for her cousin, it's very moving and made me think there could perhaps have been some more space for the actors to react to the ramifications of the plot twists, and heighten the emotion. Overall, however, this was a fantastic production which earned lots of appreciative laughter from the audience. There were many lovely touches of interaction between cast and audience, all contained in a beautiful set with pleasing period costumes. Add the amazing lighting and a cast who shared their joy in performing, this was a wonderful performance of a witty and timeless tale.
Delia Gallagher