The Need for Better Regulation of Outer Space
Tweet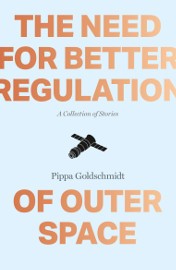 Originally from London but now living and working in Edinburgh, Pippa Goldschmidt is a former astronomer with a PhD in that field. Her transition into a writer has been very successful, garnering her several prizes and awards. Her debut novel The Falling Sky was the 2012 runner-up for the Dundee International Book Prize and her poetry has been equally well-received. It would appear that Goldschmidt is heading for similar success with this latest collection of short stories which takes themes of mathematics and science to explore deeply human concerns and relationships.
Goldschmidt's writing is consistently strong throughout this collection, with each story offering something memorable or thought-provoking either through its charm and wit, or through its acute observations of issues such as intimate human relationships, or commentary on sexuality and the role of females in scientific fields.
The first piece which seems to stand out and grab the attention is 'The Snow White Paradox' which tracks the life of Alan Turing from 1948 until 1952 during his work on Artificial Intelligence. This piece opens with Turing writing and explaining his famous Turing Test and very quickly and sharply introduces the themes which will be explored later in the story. Where Goldschmidt excels in this and many other stories in the collection is by taking potentially complex scientific concepts, explaining them effortlessly- without appearing condescending- and using these concepts as a spring board from which to create a thoroughly engaging narrative. In the case of 'The Snow White Paradox', the Turing Test is used to explore Turing's struggle with his sexuality. Goldschmidt addresses this much more effectively and powerfully over ten pages than the 2014 movie The Imitation Game did, where the issue was simply glossed over.
The sort of care and sensitivity that Goldschmidt shows in the opening story is again apparent in 'No Numbers', a story about the relationship between a young woman and her dying grandmother who had survived the Holocaust. This piece takes the relationship between science and mathematics to a wider and more personal context for the story's character: 'Dark blue ink on her left forearm creating a five digit number…This number was given to her in camp…I saw that there was a tyranny associated with integers in the way they marched forward with such regularity'. There is a certain wonder and poeticism in the way Goldschmidt takes seemingly mundane,  objects and elevates them to a more significant and complex meaning, such as the grandmother's rings which were "two gold circles lying side by side, a symbol of two sets of numbers with no intersection.  Or a symbol on infinity".
Although the highlights of this collection are in the deeper, more intimate stories, there are several moments where the author lightens the tone, displaying the clever and witty aspects of her writing which are equally pleasurable to read. Stories such as 'How accurate do you need to be (to get on in life)?' and 'The competition for immortality' are amusing to read for their clever endings in which a certain aspect of science or astronomy is used to exact revenge on others. If there is anything not to like about this collection, it is simply that stories such as these feature quite a few times and they can become a little predictable. Aside from this, Goldschmidt's simple language and diction make sophisticated concepts accessible to the average reader and captures the imagination and wonder of someone exploring distant stars and galaxies.
Overall, The Need For Better Regulation Of Outer Space is a collection that offers a vast range of truly enjoyable stories in which the ordinary often becomes extraordinary and more meaningful once peered at through Goldschmidt's microscope.
Hamzah M. Hussain