Tweet
A group of artists from the MFA Fine Arts and Humanities at the University of Dundee spent a week on the Greek island of Aegina. They paired up with local artists, found common ground, formed relationships and collaborated. The result is a fascinating blend of shared minds, memories and culture, inspired by the buildings, landscape and people of the island.
In the first room, Chris Gerrard's Mind Journey beautifully illustrates this merging of experiences. On a large canvas, twin film projections play out side by side inside two painted circles. A muffled soundtrack of the artists' voices accompanies the work, conveying a sense of their fading memories. The work represents the two halves of the brain and also the relationship between the two artists.
In Sketches and Inspirations, Patricia Ramaer takes photography to a new level by seeking to destroy then rebuild images. Inspired by ancient Greek tablets, she melts wax and applies carbon to it, creating monochrome portraits akin to classical busts. In The Grandfather's Lure she uses the same technique on a piece of white cheesecloth suspended from the ceiling. The light shines through the fabric, creating a shadowy, ghost-like effect.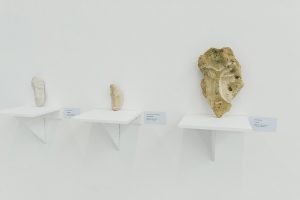 The next room is reminiscent of a museum of antiquities. Unmasked, Half and Half and Untitled by Siobhan Morison and Takis Marinis is a series of three small masks carved into pieces of limestone collected from the Aegina coastline. Like a fragment of ancient Greek sculpture, Half and Half is a collaboration between the two artists, one half carved in Aegina, the other in Dundee.
The museum theme continues with Chiara Braidotti's Earthquake, fragments of Aegina clay decorated with oils and gold leaf. In Contemporary Fossils, pieces of clay are carved with fossil-like impressions and tagged. Also by Braidotti is a collection of postcard-sized pen and ink sketches called Traces, in which the artist captures, in a few fine strokes, an ancient olive tree, propped up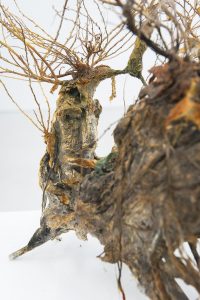 with struts, along with 'fragments' of landscape and figures.
At first glance, Chelsea Glidden's Roots of Zeus appears as nothing more than the twisted branches of an ancient olive tree. Look closely and a face emerges. This powerful piece, cleverly sculpted from plaster, metal and wood, hangs majestically above a second piece called Olive Trees. Here, the artist creates a similar illusion – the materials carefully crafted to look like gnarled branches from which two figures emerge, intertwined in eternal embrace.
In contrast, Ginny Elston's Coordinate uses geometric lines and fluorescent colours in a collection of delicate etchings and paper constructions. Though bright and angular, the shapes are not intrusive or threatening, but executed with the lightest of touches. The lines unravel into Amanda Adams' Deconstructed Canvas I and II, where Adams uses loosely woven calico tinted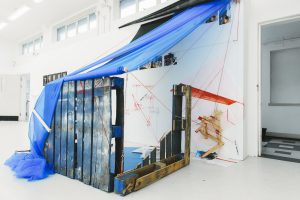 with the kind of cerulean only found in the sea and sky of Greece.
As if washed up by the tide, Helen Angell-Preece's imposing piece Horos uses wooden pallets, steel wire, netting, photos, paper, crates and cord. The artist demonstrates what it feels like to be a stranger on the outskirts of a place looking in. This sense of being "on the edge" continues with Oana Mocanu's Take me Home (Where I Belong), a collection of photographs showing Greek street scenes. In one, a world-weary child with a dirty, tear-stained face looks pitifully out at us.
Elika Vlachaki's Recollection includes haunting images cut into wood, inspired by graffiti from the wall of the derelict Aegina prison, formerly an orphanage, around which much of the work is centred. A satisfying "ding" accompanies us around the room, as water drips rhythmically into an enamel dish from a piece of canvas hanging from the ceiling where it has collected into a pool. The musical sound of the water dripping forms a backdrop to Jan Johnson's performance piece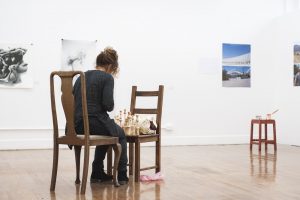 Kopanelli, in which the artist winds hand-turned wooden bobbins to demonstrate traditional lace-making. The word Kopanelli is derived from the sound made by the wooden bobbins as they knock together.
This exhibition beautifully conveys the colours, sights and sounds of Greece. Every piece has been thoughtfully curated and given the space it deserves, with clear labelling and plenty of background information. Oscillations is a breath of fresh air.
Joanne Morley-Hill