Tweet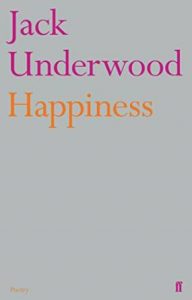 If the reader seeks hearts and flowers in the sunnily-named Happiness, they are to be found, albeit pumping viscerally or severed in vases. Jack Underwood questions how we experience, understand, appreciate and attempt to capture that sometimes elusive state. In something of a Ying/Yang complement he explores whether happiness is possible without its shadow boxer. Without darkness, how do we know light? If sometimes the light in his poetry seems but a very thin rind of a new moon, nonetheless it is there. Mills and Boon and self-help manual devotees should take Happiness from their baskets before the till.
This is a debut collection but, being a Faber book, Underwood is already well-published much-anticipated, nuanced and mature voice. He explores in many forms, all allusion-layered. Far from an easy read, it is nevertheless a beguiling and haunting one. To reach the joie de vivre "as millions of photons whoosh through my hands", his reader will first have "washed the gravel, and piled the fox turds".
Sometimes the poet's sharpness is serious indeed "because it's easy to give/ away fractions of happiness"; elsewhere in his beautifully ringing repetitions there is a sense that there isn't always a choice. Consider "An Avoidance" which feels as if it has just avoided being a sonnet:
[…] and someone's dressed
as Death in the Halloween party photo, and
someone's dressed as Death in the birthday
party photo, class photo, front row, by the font[.]
More than once, Underwood refers to his protagonist's obsession with mortality –
You think about death a lot, don't you?
and I realise I've been doing it again.
Later, in "Death says", a poem taking in some major themes… death, sex, surrealism and particle physics, he notes:
I am talking to you now in the voice you read with
inwardly,
private as the name you say to the bottom of a tall
felt hat.
That surrealism and the plying between the personal and the universal is particularly fine in "Oversize" when
[…] I am so big today, I push
my finger to the earth's yolk and erupt it
like a boil.
Like many of our best contemporary surrealist poets (George Szirtes, Helen Ivory), Underwood's early Art School training seems significant. So, his "sadness is a yacht", and "I have a dead moth/ for an ex-wife" and "they will drop an apple on/the floor/to clear all this weather away".
Indeed, it is when Underwood is at his pithiest and most visually surreal that some of the best poems occur, yet for my taste in the longest work here, "Sally and Rima", he seems already very safe in his intent several lines before his prose poem's conclusion.
"Weasel" has clear echoes in Heaney's "The Skunk". Unlike the elder poet's exiled longing, Underwood's equally sensory and sexually-charged account offers the relationship's development at close range, remembering "those balled-up sock guts of an afternoon/stolen back from college" against "the spastic, ticking urges". In one sense his creature is more elusive, being only truly present in his lover's hips. If that is a gentle nod to Heaney, there are more overt gestures to Donne, Akhamatova and more, and perhaps a quirkily amphibian one to MacCaig.
Yet even impending parenthood pulses with fear –
[…]I'm sorry, I am such a dreadful future father,
I'm on the curb, crying, I'm a mess with your scarf.
All this fear, like a fizz building on a bad, grey egg,
is waiting for you.
Cynically, it's hard not to wonder how dark his poems might become post-labour suite, or in wait for a toddler's X-ray. However, elsewhere he voices his sister, whose
biggest regret was not putting her name
firmly onto living, slipping beneath it
before she was born. And I regret it
in the garden with the dead fireworks [.]
Never a bundle of easy laughs is Happiness, but wonderful and worth every minute shared. Carpe diem indeed.
Beth McDonough