Tweet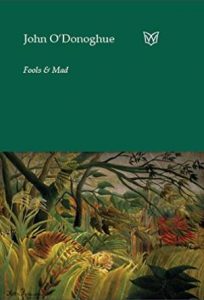 A midnight court during which only men are invited to speak is where the reader of John O'Donoghue's Fools & Mad finds herself at this epic poem's finale. Yet these are no ordinary men, but a jury of twelve poets hand-picked by Anglo-Irish satirist Jonathan Swift from Ireland's literary history. They have been gathered here to pass judgment on the Celtic Tiger – the Republic of Ireland's rapid economic growth and subsequent recession, characterised in the poem by "A Tiger, magnificent in aspect". This epic satire, divided into two parts, is O'Donoghue's first publication since his award-winning memoir, Sectioned: A Life Interrupted.
The poets in Fools & Mad range from King Sweeney, the well-known figure from the medieval tale, all the way to James Joyce. These twelve have been incarcerated in Jonathan Swift's asylum (although different in appearance to the real St. Patrick's Hospital) waiting, it seems, for the narrator and poet O'Donoghue to stumble into their midst. The narrator's one job, after having spoken to each poet individually, is that of the stenographer for the midnight court taking place in Part II.
This entire epic poem is stylistically accessible as it consists of both a regular rhythm and rhyme-scheme that add a light-hearted aspect to the otherwise quite serious and politically-driven content. The eccentricity of the various poet characters somewhat recalls the Mad Hatter's tea party and contributes to the overall satirical quality. It is clear that O'Donoghue has a very acute knowledge of Irish Literature, and I feel that to appreciate his satire fully, one must match his knowledge and not only of Irish writers, but also of the country's politics and history.
Although the work as a whole attempts to discuss issues relevant to Eire's current situation, certain aspects of the poem do not quite work for me. Firstly, it may have been more interesting to read each poet's dialogue in his own signature verse style, adding the element of pastiche to O'Donoghue's already self-aware tale. Yet he retains his own regular metre and rhyme scheme regardless of which character is speaking. Moreover, the poets' characters might be more believable if they were portrayed in another medium; Caryl Churchill's Top Girls comes to mind.
Lastly, my most serious criticism of Fools & Mad is the stark absence of women. In an article written after his poem's publication, O'Donoghue explains this omission by stating: "It seemed to me that Ireland's financial woes were caused by men, almost exclusively: bankers, businessmen, politicians." That's an interesting get-out clause, but I fail to see how this excuses the absence of Irish women poets from the text as a whole and it especially does not explain his depiction and treatment of the one female character present, Kathleen Ni Houlihan, whose name is also, of course, synonymous with Irish nationalism. By choosing to depict the one woman in the text as a mythical figure, O'Donaghue reduces her to a symbol, a mere representation of Ireland and motherhood. He then proceeds to dress her in white, "head to toe in a long shimmering gown", an overly-obvious symbol of virginal purity.
Having established this female character in his chosen role, the line: "Why the country went from Virgin to Whore" adds another negative layer to the representation of women in the text. Kathleen Ni Houlihan emerges from the forest to join the midnight court, yet remains mute on the sidelines and is never mentioned again throughout the poem. In this way O'Donoghue both reduces women to mythical metaphors who lack complexity, stereotyped as virgins or whores, and then completely silences them.
Men might have been the responsible party for Ireland's economic demise, but it is clear O'Donoghue believes that men are the only ones capable of attempting to shed light on its historical and current situation. After all, what would a woman know of such things?
Aurora Woods