Tweet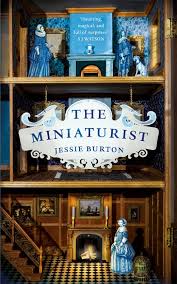 Jessie Burton's debut novel has certainly attracted a lot of attention. One look at the list of awards and recognition the book has received is enough to entice any curious reader. The Miniaturist is also in the process of being translated into thirty-two different languages, an impressive feat for an actress/executive assistant who wrote a novel in her spare time!
The story is set in late seventeenth century Amsterdam, Eighteen year old Nella Oortman has recently married Johannes Brandt, one of the richest and most powerful merchants in the city. Johannes is an influential presence in Amsterdam society, his status reflected by his majestic home situated on the prestigious Golden Bend. Unfortunately, contrary to Nella's expectations, her arrival in the city is anticlimactic to say the least. To begin with, Johannes himself is absent – not the best of omens for a budding marriage. Furthermore, Nella's introduction to her new sister-in-law, Marin, and two servants, Cornelia and Otto,  is not at all pleasant, as they insult and laugh indiscreetly at her from the darkness of their great hall.
Nella's problems do not end there, as she discovers that her new role as a wife appears not only to be fragile but also somewhat empty. Johannes is rarely around, preferring the company of his two loyal whippets to that of his young wife, who waits night after night in their unconsummated wedding bed. The rest of the household regard Nella with hostility and do not recognise her as lady of the house, a role Marin refuses to relinquish.
Nella's humiliation continues when Johannes buys her a beautiful cabinet-sized replica of their home as a belated wedding-gift. Taking this as a patronising insult designed to highlight her current non-existent status within the actual household, Nella decides to show her defiance by ordering certain telling items from a local miniaturist with which to furnish the replica.
From this point onwards, secret after secret is revealed. The elusive miniaturist flits just beyond Nella's reach, constantly taunting her by sending unbidden items for her doll's house. To add to the mystery that drives the whole narrative, these miniature items begin to tell uneasy truths about Nella's life and the people she shares it with. Somehow, the miniaturist seems to see and know all.
As an historical novel, The Miniaturist is very accessible. The narrative is imbued with a strong sense of seventeenth century Amsterdam which has been very well researched, with the inclusion of a Dutch glossary at the back of the book.  However the sensibilities of the main characters do not feel very authentic. Nella herself comes across as a modern day teenager and as the narrative develops, she shows a level of understanding and acceptance quite abnormal for someone of her age at that point in history.
Burton tackles several controversial issues throughout the course of the novel. While these themes add suspense and mystery to the narrative, shocking the reader into reading onwards, the excessive number of such dramas pushes the story dangerously close to melodrama. As a result, by the conclusion, I was left somewhat desensitised to Nella's plight. Compounding this sense of disinterest, certain questions which seem central as the narrative progresses are only partly resolved leaving the reader unsatisfied and frustrated.
Although these issues did, to some extent, hinder my enjoyment of the novel, it would be wrong not to praise Burton for her captivating writing style. Her descriptions combine to form the most striking feature of The Miniaturist, not only in their ability to communicate ideas simply, but also in their memorable lyrical quality. Jessie Burton's craft may rival that of The Miniaturist, but hopefully, in her next book, she will lead her readers to reach a more satisfying conclusion. Burton's The Muse is just out and I look forward with interest to reading it.
Aurora Woods