Tweet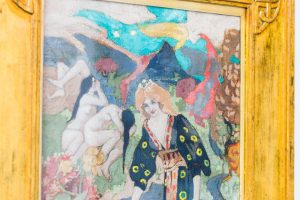 The son of a butcher and a jute weaver, John Duncan is one of Dundee's most internationally renowned artists. He was born in the Hilltown area of Dundee in 1866 and this exhibition marks the 150th anniversary of his birth. A meeting with Patrick Geddes, Professor in botany at Dundee University College (1889-1891), became the catalyst for Duncan to produce some of his most notable work.
In 1892 Duncan went to Edinburgh to design murals and other decorative pieces in the Celtic Revival style, merging Celtic mythology and symbols with organic forms. Most celebrated among his Edinburgh projects were his illustrations for The Evergreen, a seasonal journal published by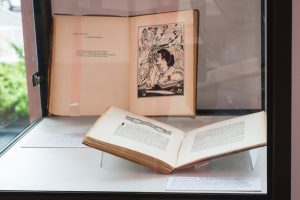 Geddes that became a mouthpiece for the Celtic Revival Movement. All four periodicals, each centred on one season of the year, provided wide ranging studies on Scottish culture, tradition and nature. Duncan was art editor, contributing numerous engravings including that of Anima Celtica, where a central female figure is surrounded by Celtic objects and scenes. This drawing was attacked by critics at the time because Duncan had used the 1892 National Museum of Scottish Antiquities catalogue for inspiration, bundling several historical events into one 'Celtic' tale. Despite this, Anima Celtica became one of his most iconic images. In The Book of Spring (1895) and The Book of Winter (1896-7) Duncan's designs reflect his interest in European art and design, especially those in  Pan and Jugend, German periodicals which Duncan came across when he studied in Düsseldorf. The black and white illustration plates show Geddes' organic influence, which Duncan cleverly blends into geometric shapes and patterns.
Along with his many illustrations, we also see two of Duncan's classic Celtic-inspired oil paintings: The Glaive of Light and A Sorceress. In The Glaive of Light (1897), Duncan applies thick, swirling strokes of colour to give a richly decorative patchwork or tapestry effect. A Sorceress (1898) is also bright and bold, and reminiscent of Gauguin's Polynesian scenes with its red and yellow exotic plants and two crouching female nudes with long black flowing hair. The Glaive of Light and A Sorceress were exhibited at Dundee Graphic Arts Exhibition in 1898 in the Albert Institute (now McManus Galleries), where The Dundee Advertiser compared Duncan to Glasgow Boy E. A. Hornel.
In The Riders of the Sidhe (1897) and Tristan and Isolda (1912) Duncan moves from oil paint to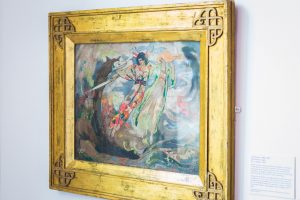 tempera. He uses vibrant reds, rich golds and deep blues to re-create famous mythological and romantic scenes. Though we only see colour plates in this exhibition, The Riders of the Sidhe can be seen in McManus Galleries in Dundee and Tristan and Isolde in Edinburgh City Art Centre. In a letter to James Torrington Bell in 1941, on display for us in this collection, Duncan writes about the advantages of working in tempera over oils. He praises the 'permanence, brilliance and beauty' of the egg-based medium, though oils, he says, are easier to use. The colours in these paintings have certainly kept their vibrancy. Plates of these works are in The Paintings of John Duncan by John Kemplay, 1994 – the only full length book on Duncan. Matthew Jarron's 2015 book, Independent and Individualist – Art in Dundee 1867-1924, features new research on Duncan's life and work.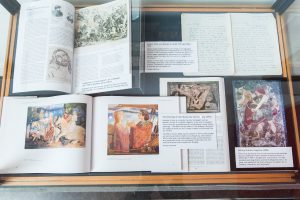 John Duncan's work was hugely fashionable in its time; his drawings and paintings still work today as purely decorative objects. However, for this 21st century viewer they appear rather flat, uninspiring and lacking in emotion. Despite this, the collection has been thoughtfully put together with clear labelling and plenty of background information. It gives us a brief but fascinating glimpse into the life of John Duncan and serves to remind us of his great legacy.
Joanne Morley-Hill