Tweet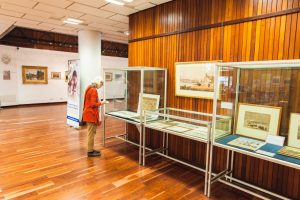 Though not set out chronologically, some works hung on the wall and some lying in glass cabinets, this exhibition takes us on a gently meandering journey through Dundee University's archives, showing us how the approach to landscape painting has changed over 200 years. The earliest work on show, William Sawrey Gilpin's The Quay at Ipswich (1811) is reminiscent of the Dutch Masters in its realism, while at the far end of the timeline, Lyndsey Redford's Thoughts of Everyday Life (2010), is much looser, more fluid and leaning towards the abstract.
Thomas Miles Richardson's Tarbert Castle, Loch Fyne (1838) is a small watercolour in the picturesque style. Our eye is drawn from the ruined castle in the middle foreground to a central peasant figure in a red shawl; a few wandering sheep complete the countryside idyll. A similarly romantic figure draped in red appears in Charlotte Nasmyth's 1845 oil painting Kincardine Castle, where the artist has deliberately removed buildings from her scene in order to create the "perfect" composition.
Sir Alfred East's watercolour Château de Nemours (1884), though still romantic, is less formal than those of his predecessors. He manages to convey the light, feeling and atmosphere of the French landscape without striving to turn it into a version of the sublime. East studied at Glasgow School of Art, and later in Paris, and his more relaxed approach to landscape painting shows the influence of the Barbizon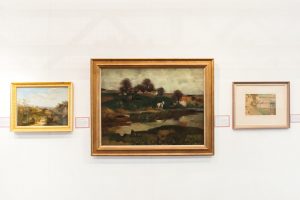 school. In his Canal/River Scene of 1895, William York MacGregor seems to reject the romantic style of East, Richardson and Nasmyth. Known as the 'father' of the Glasgow Boys, MacGregor is less concerned with realism and more concerned with light, tone and colour. In a slightly more relaxed approach, blocks of colour have been applied in swathes, building them up into a pleasing composition.
Moving along the timeline, we arrive at last in the twentieth century; metaphorical corsets fall away and we can breathe again! On a visit to Italy in 1937, Ian G. M. Eadie produced a delightful series of watercolour sketches, one of which we see here. Titled Assisi, the landscape is unmistakably Italian, complete with chrome orange roof tiles, cerulean water and ochre stonework. Gone is the rigidity of the earlier works and their quest for perfection. Light, shapes and colour convey how we might feel about the landscape.
Ian Drummond's 1959 ink and watercolour sketch Trees at Hospitalfield 1 is positively refreshing in its bold, gestural style, evoking a sense of the artist's freedom in his expression. Chinks of light are glimpsed through the black tree trunks, forming contrasting shapes. It is a dramatic, atmospheric snapshot that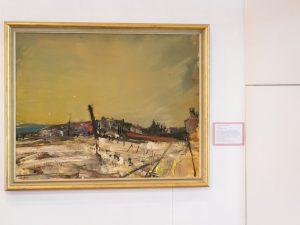 conveys emotion in the roughness of its lines. Echoing this is Joan Eardley's Snow II of 1961, with its large areas of roughly applied oils. This painting is full of life and vigour. The top two thirds of the painting are devoted to a grey, stormy sky. Blobs of dried paint from Eardley's palette are mixed in with her strokes and the colours seem mixed directly on the canvas in places. Originally from Sussex, Eardley is nevertheless regarded as a key Scottish painter of the post-war period, spending much of her life in the village of Catterline near Aberdeen where she obsessively painted scenes of the rugged coastline.
Many of the earlier, more traditional works in this collection may seem irrelevant or even dull to contemporary eyes. Personally, I would love to have seen more of Eardley and her ilk. However, there is no denying that all the artists represented here are masters of depth and light and this exhibition takes us on an informative and historical journey through the changing landscape of British art.
Joanne Morley-Hill