Tweet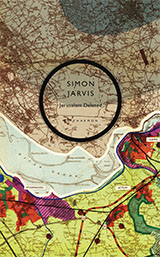 One might think that if you are the Gorley Putt Professor of Poetry and Poetics at Cambridge University creative attempts might turn out to be overly academic. Or you could be Simon Jarvis and write Jerusalem Deleted, which is an epic poem – an unusual choice considering that most contemporary poetry tends to be published in collections. This might not be a ground-breaking observation, but it is an important one, because it changes the way the poem should be read. Unlike poems gathered into collections, where readers can pace themselves to their liking, both the length and calibre of Jarvis' poem require a significant attention span.
Indeed, one might consider it naïve to expect simplicity from a scholar of Theodor Adorno. There are two main reasons for this. The first is diction: people who are not well-versed with historical or theological terms might find themselves lost or required to peruse dictionaries for every other sentence.  Consider "Monophysites", which refers to adherents of the theory that Jesus was one person; "callipygian" is Greek for "beautiful buttocks" while "aphthartodocetism" describes a sub-sect of Christianity in the 6th century. The second challenge is that it is unclear where the narrative of Jerusalem Deleted takes place. This is not a problem, as poetry tends to benefit from ambiguity, but it does raise the question whether the action is sited in England, Jerusalem, or whether it is an interior journey. The last, a kind of Orphean journey through one's personal underworld, surrounded by the shades of war and religious credo, appears to be the most interesting interpretation.
Jerusalem Deleted may be quite technical in its concept, but this is complemented by its technique. The poem is very orderly, composed of 1400 quintets. Orderliness should not however be confused with rigidity: the poem flows beautifully, which is in no small part due to its use of enjambement connecting both lines and stanzas:
her small throat issued in a note unfound

152
in human noises[.]
The flow is also complemented by small breaks in the form of single-sentence verses:
As they progressed
35
towards the remnant orthodox, so I
crawled over to a nearby ditch and wept.
When I had done this I lay down and slept.
The submarines lay dormant off Batum.
I woke up and made towards the silhouette[.]
The simplicity of lying down to sleep illustrates the narrator's fatigue. The narrator is then allowed exactly one line of repose before he has to continue on his phantasmagorical journey. Even if one disagrees with the internal journey, it is hard to argue that the overall effect of Jerusalem Deleted is an apocalyptic one. And yet, the tone of Jarvis' poem is not entirely that of the seventh trumpet. Although not exactly funny, there are some subtle humorous inclusions, such as "Each message is an angel". Angels, in the Abrahamic tradition, are the messengers of God. Calling each message an angel is therefore not only an expression of relief, but a linguistic tautology that is amusing for readers familiar with the function of angels.
Even though it is highly challenging to read, Jerusalem Deleted is a treat. It is also proof that it is still possible to make something new out of something old, as the grandiose style of the epic poem is transposed into a modern setting. Moreover, if one is inclined towards applying the interpretation of a text to polemic events, it serves as a reminder of how Jerusalem has historically been an epicentre of unrest, and it is Jarvis' ability to channel this unrest is what lends his poem its strength.
Jérôme Cooper