The Blind Road-Maker (Shortlisted, 2016 TS Eliot Poetry Prize)
Tweet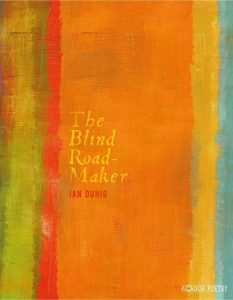 There are few poets active today with the wit, warmth and erudition of Ian Duhig. Since his 2003 debut The Lammas Hireling he has assembled a body of work rivalling that of any other poet for sustained colour, insight and invention. His work mixes comedy and tragedy, and his poems often come with a complex emotional and historical backstory, transforming many of them into cryptic documentations of obscure but valuable histories.
His latest collection features a number of recurring topics: at the centre is Blind Jack Metcalf ("Blind Jack of Knaresborough"), the titular road-maker, fiddler and all-round character. He serves as an emblematic link between Duhig and the past which, in recent work, has been such an inspirational focal point. It's possible even that Duhig sees himself in Metcalf, neatly summing up the poet's art through his description of Blind Jack's character and upbringing
…he read behind their words
how men and women felt,
like faces, suits and numbers stamped
on tavern cards he dealt.
Also running through some poems are references to "Ashtrayland", a cynical and weary nom d'etat for a decaying England, taken from Bernard Hare's 2006 work Urban Grimshaw and the Shed Crew, and invented by its leader of a gang of Leeds-based dropouts and tearaways. Images of the dark underclasses of England pop up like flashcards
…the star on her left cheek –
a Borstal beauty spot

…they hand round
White Lightning in two-litre flasks.
Several poems here focus on groups or individuals who are in some way damaged, even fatally, at the hands of a society whose capacity for compassion and justice Duhig calls into question. One poem pointing compellingly and movingly at such instances of injustice is "The Full Weight of the Law" – a memorial to Manuel Bravo, whom the poet notes was an Angolan political refugee seeking UK asylum but woefully served by the British legal system. As the opening lines declare
Let me be weighed in an even balance. But I was not:
The scales fell from my eyes while Justice stayed blind…
Bravo's agonising decision to ensure his young son would remain in the UK by taking his own life while awaiting deportation is heartbreakingly described. The final lines draw on resonant fragments of the Old Testament to illustrate the doomed asylum-seeker's ultimate fate:
I weigh myself in Yarl's Wood detention centre stairwell,
my soul chooseth strangling, and death rather than life.
This is the poetry of protest in the hands of a literary dissident, and one of the most impressive poems in the collection.
It's interesting to note Duhig's quixotic and subversive nature represented in the sequencing of the collection, for the preceding poem "Bridled Vows", though highly accomplished as a piece of restrained comedic writing, is one of the lighter pieces. It offers a realist version of the wedding vows, and may yet find its way into celebrations of matrimony between two people with a similarly grim sense of humour
To be your perfect wife, I could not swear;
I'll love, yes; honour (maybe); won't obey,
but will co-operate…
There is much more to this collection, however, than the base metals of polemic, pathos and wit. Duhig's scattered references to the challenging but influential 18th Century novel Tristram Shandy may reveal his ultimate aspirations, with Lawrence Sterne's influence clear in his layers of detail and cross-referencing, his unwillingness to simply tell a story in a conventional or linear manner and his regular use of double-entendre and wordplay. One poem "Contracted Silences" manages to deal with violin-maker Antonio Stradivari, actor Debbie Reynolds and Loyalist Paramilitaries in County Antrim in the space of twenty lines.
Line-by-line, this collection offers much that is fresh and inventive, and it's easy to see why it's a strong contender for this year's Forward Prize. It is a collection which will undoubtedly push Ian Duhig even closer to the summit of contemporary poetry, and a must-read for 2016.
Andy Jackson