Tweet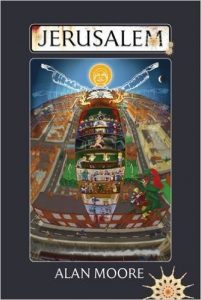 Magician, performer, mystic, and writer; there are many strings to Alan Moore's bow. Touting a belief in the miraculous powers of art and language, the grizzled Northampton giant equates the role of the artist with that of the shaman: manipulating the consciousness of his audience with a knowledge of symbols, a grimoire of grammar. In his best known work, Watchmen, Moore exhibited an interest in politics, history, and formalistic play which came to be characteristic of his writing, and is more than exemplified in Jerusalem.
A decade in the making, the weighty tome is a culmination of the ideas developed throughout Moore's career; a thematic tapestry woven from the threads of art, philosophy, history, and quantum physics, the novel is a meticulously constructed and masterfully executed work of historical fiction. Set in the author's own childhood neighbourhood of Northampton's Burroughs, Jerusalem is the spiritual sequel to Moore's first novel, Voice of the Fire. A century spanning tale recounted by a host of characters connected by their location in space, if not time, Jerusalem's labyrinthine narrative focusses, for the most part, on descendants of the Vernall family, a bloodline traditionally charged with minding the borders between one world and the next. Slipping between life and the afterlife, the past and the present, Moore's magnum opus is a swan song for the district's traditions, its history, and its way of life.
Like From Hell, Jerusalem endows its city setting with a character all its own, its host of narrative voices participating in the tradition of the flâneur, the observing pedestrian. Moore's descriptions of his hometown streets are diligent in their attention to detail, conjuring an image of the Burroughs so real that the routes trodden by his characters might be recreated with ease. His encyclopaedic knowledge of the area shines at every turn; he knows the story of every landmark, the major events that occurred there in every period, and the links that Northampton holds with such notable figures as William Blake, Samuel Beckett, Oliver Cromwell, and George Washington.
Time, in Jerusalem, is an illusion of the living. The afterlife is portrayed as a vast plaza occupied by "angles", the builders of reality, and each moment in our conscious lives is given its own spatial location as a single crystallised instant in the "Attics of the Breath", a space where figures from the past, present, and future can mingle freely. The novel's historically diverse cast, ranging from the author's avatar, eccentric middle-aged artist Alma Warren to the three-year old Michael Warren, with cameos from Lucia Joyce and a young Charlie Chaplin, allows Moore to flex his authorial muscles and display a talent for truly occupying a character. Each one has their own distinct voice, and in several cases their own literary form; a frustrated young poet presents his experience of homelessness in poetic verse, while Joyce's madness is rendered in language so mangled it is almost beyond recognition.
Throughout the novel, Moore plays with style and form, paralleling this portrayal of time with the book's own metafictional and self-reflexive nature. The theories of time and reality espoused in the formal experimentation of Watchmen and From Hell are here developed, utilising the theories of Einstein, Wittgenstein, and Gerrard t' Hooft to probe the nature of our existence. Life, he suggests, is like a book: once finished, its events are a closed loop, ready to be examined anew. Free will? An illusion.
Jerusalem is not an easy read. It is populated by the downtrodden and peppered with tragedy; its narrative is labyrinthine, demanding, and often mindboggling. These very qualities, however, ensure a rewarding experience for the reader who perseveres, promising fresh revelations with every subsequent reading. Outweighing Bleak House and more complex than Don Quixote, Jerusalem is an exquisitely crafted monument to English history and culture.
Ewan Wilson