Measures of Expatriation (Shortlisted, 2016 TS Eliot Poetry Prize; Winner, 2016 Forward Poetry Prizes 2016: Best Collection)
Tweet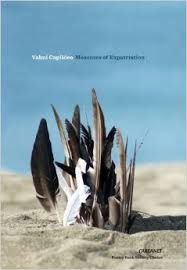 It seems self-evident that there are different kinds of poetry but this truism is well worth restating. For readers of the modern lyric whose appeal might lie in the small imagistic fragment, a well-wrought urn of words and music that speaks to a sudden, vital moment of perception as creative renewal (that sudden slant of autumn light on stone or the hiss of the summer pavements after rain) Vahni Capildeo's Measures of Expatriation might bewilder. Yet we all – myself included  – need to move from our comfort zones. With its relentless questing and questioning, its love of ideas and abstraction, its deliberate strange poetic juxtapositions flouting sense and syntax, Capildeo's Forward award-winning collection is hardly easy reading. Add to that daunting mix, prose-poems reading like memoir, essays and narratives, this collection will push the boundaries of what we conventionally take to be "poetry".
Measures of Expatriation is on one level "about" identity, and so Capildeo writes about "expatriation" (a word freighted with both real and imagined worlds) and of entering into a cultural industry fixated on bio-identity politics:
Expatriation: my having a patria, a fatherland, to leave did not occur to me until I was forced to leave, did not occur to me until I was forced to invent one. […]This luxury of inattention, invention, and final mismatch… a 'Trinidad' being created that did not take my Trinidad away (my Trinidad takes itself away, in reality, over time)… that is expatriation, no?
Mismatching, ill-fitting sartorial robes and habitations recur as thematic figures throughout the collection's seven sections are offerred up and cast off as metaphors and images for identity (and alienation); these range from the Guy Fawkes guy, the Muslim guest brought home, the dream presence of the Arawak aunt's maid, Medusa's severed head, the girl behind the cornershop counter, an individual ill with loneliness and ill-health during the Scottish festive season, poets, past selves, writers and artists. The perplexity and anger of this existential-like shuttling is reminiscent at times of some of the classic post-independence narratives such as Ayi Kwei Armah's The Beautiful Ones Are Not Yet Born. Alienated, dematerialised and emptied-out presences, the result of the weight of others' looks, echoe Frantz Fanon's primal scene in Black Skins/White Masks; thus Capildeo writes,
Being looked at, I was that unmade image, that hurt in return. People who talked to me were unable to keep their countenance. I was not as dense as the object would need to be for the, to focus on it. Their question, 'Where is she from?' in my very presence became, 'Where is she'?
Yet Capildeo  is also driven by a reflexive, self-conscious alertness to words which result in meanings generated associatively; readers are invited to slip between layers of sounds and meaning, "the fluidity and zigzagging" of both  from different cultural contexts and languages ("a rentissante horde"). In her consideration of "refugee" and "exile", we see her professional interests in etymology albeit in a guise worn lightly (she was an editorial assistant and freelance researcher at the OED). There is a performative attentiveness  in some poems in their use of repetition, for example, in "A Personal Dog", and in the use of the phrase "it was a small snail" in "THE POET TRANSFORMED INTO A BOX HEDGE". In "Mercy and Estrangement",  a poem about how we relate to others, the associative semantic shifts around change, transformations structured syntactically by similes ("as silver tilts white, silver/as refuse seams silver") and alliteratively segued, are more startling but enable the move from his birdlike heart to "birdform, my heart":
His heart hurtling towards me
I not caring to catch it
it turns into a bird, turns:
a scavenger bird lightfoot
alights on foam, contest white
as silver tilts white, silver
as refuse seams silvers, gawks,
jinks, is radiated by charts
charted inly: magnetic,
unhoming because transformed.
A rill and jitter brought me
– birdform, my heart – to the park…
This is poetry singing of the pleasure, pain and perplexity of how the self adapts to, changes and is changed by a world real, imaginative and linguistic inhabited by others, reminding us that poetry can be ambitious, challenging but also rewarding.
Gail Low