PUBLISHING AS PROCESS: An exhibition of artists' publishing by Banner Repeater
Tweet
Centrespace, VRC
Curator's Talk: Thursday 8 September
Exhibition: 9 – 29 September 2016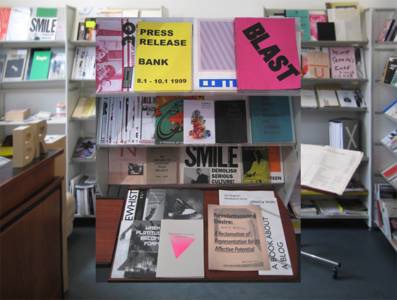 "GIANT JONG KICKS UN*"
*self-generated headline courtesy of @LowAnimalSpirit, Ami Clarke
PUBLISHING AS PROCESS is an exhibition that presents us with an array of visual distributions; publications and live happenings are situated alongside each other in the two rooms of the VRC, to question the ways in which we receive and digest information, and where the role of the artist comes into that. Curated by Ami Clarke (artist, facilitator and founder of Banner Repeater) the exhibition opened with a curator's-talk and preview, where the audience was formally introduced to the self organised project space-cum-publisher-cum-art space amalgamation that is Banner Repeater.
Banner Repeater itself is a "permanent on-site" establishment situated in Hackney Downs railway station. It opens to the travelling public from 8am most mornings, housing a (normally difficult to get your hands on) permanent archive of artists' publishing as well as a reading room and bookshop, providing a stimulating alternative to commuters' free metros and daily papers. PUBLISHING AS PROCESS, too, provides a stimulating alternative for the visiting public – in this case, with clinical gloves and glass casing. Protectives aside, the exhibition carefully offers an alternative to what we may usually consider when it comes to how and why artists use publications – and how that may differ to mainstream publishing.
The exhibition seems in contrast to Banner Repeater's usual, more transient, London based location; one that encourages rapid footfall and widespread distribution. Seeing the curated content in the context of Dundee (a city with a zine scene popular with local artists) highlights the shared aims of artists who involve publications in their own work. With the agenda spelled out in the title, PUBLISHING AS PROCESS offers up some examples of how entire practices can be formed around publication and events, as opposed to publications playing sidekick to a different practice in the spotlight.
The first room of the exhibition includes publications from Banner Repeater's own archive (some of which, we are informed were "recently acquired for DJCAD's own artists' books collection") alongside a selection of publications already housed in the abc. The handout accompanying this particular exhibition shares how Banner Repeater developed "…through a diagrammatic reading of the project as a site of affective experimentation". This sense of affect is echoed throughout the exhibition, specifically in the mirroring of some of the publications (see pictured). In picking up these shiny objects, the visitor becomes part of the publication. Through visually affecting us, this encounter cleverly draws attention to our constant engagement with information distribution. Not unlike most displays of artist books, the majority of the work on show appears on interactive tables and shelves; as well as in vitrines. All apart from some publications in poster-form.
Unbeknownst to the browsing visitors in attendance on the opening night, the room that the curator's talk had taken place in had quickly transitioned into an unlit portal to the "twitter-sphere". In contrast to the first room, and as if walking into the depths of the VRC , visitors are now faced with a large live stream (see pictured) courtesy of @LowAnimalSpirit. The self-generating tweeting machine displays a screen of floating words – a work which is "dealing in words sourced from global news for virtual profit whilst speculating on their usage – tweeting speculative headlines" Standing tall, this projection is one part of the exhibition that doesn't rely on an encounter with a visitor in a gallery for its activation.
In highlighting the intricacies of publications, this exhibition sends a message that publications are important: whether they take the form of black and white photocopies or an intricate pamphlet you would take away from an exhibition. Not simply a presentation of publications to browse through, PUBLISHING AS PROCESS questions the artist's role in cultural production, and in society, through furthering how we think of distribution and the function of publications. The variety of engaging examples on show, covering such a wide range of ideas and discussions, will hopefully be inspirational to Dundee.
———
Monday – Saturday, 12.00 – 4.30pm.
@ Centrespace VRC (located in Dundee Contemporary Arts downstairs from the JUTE bar)
Emma McCarthy