The Many (Longlisted for the 2016 Man Booker Prize)
Tweet
Wyl Menmuir
(Salt, 2016); pbk. £8.99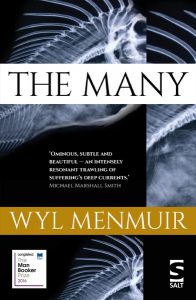 "Who was Perran?" This is the question that Timothy, the main character in Wyl Menmuir's debut novel, The Many, continues to ask, and it's a question we find ourselves asking too, especially towards the tragic conclusion. A definitive answer is never forthcoming however, and this is partly why The Many is such an intriguing and enigmatic story.
The lines between fantasy and reality are often blurred in this unsettling tale. The prose is interspersed with sections in italics – are they dreams or did they really happen? A sense of loss permeates the novel – in the sense of death, and also a loss of hope. We come away with a feeling of impending doom, a mixture of grief, sorrow and loneliness. Even the cover of the book is funereal: fish skeletons in negative on a dark background, hinting at the bleakness within.
Menmuir's strength is his ability to write sparingly. In clever dialogue, he shows us how the fishing villagers are reluctant to open up to the newcomer who has moved into Perran's house. It's clear Timothy's intrusion isn't welcome; from the moment Timothy arrives at the empty cottage, he is viewed with suspicion. His questions about the previous occupant are met with icy silence and cold stares. Ethan, in particular, is still mourning his deceased shipmate who drowned in mysterious circumstances; one of the older crew members introduces himself with a warning:
 "Clem," the older man says before Timothy goes out of earshot. "And the man you've got spooked, that'd be Ethan. I reckon you owe it to me to get him back on track, trouble it's causing me."
As the story progresses, we learn that Timothy himself is trying to come to terms with his own loss. He wants to make a fresh start by the coast so he sets about cleaning up the ramshackle cottage to make it habitable for himself and his wife, only to be faced with a series of devastating setbacks.
The sea is a powerful and ever-present force throughout The Many, a power that no one can harness. It has a hypnotic pull over Timothy and the inhabitants of the village; the villagers are at its mercy. On the horizon looms a line of large vessels – a constant and ominous reminder of the fishing boundary.
Fishing forms the livelihood of the villagers, but with every catch that comes in the fish are mutated due to contamination. The silver darlings have become nothing more than toxic, translucent mutations. Through his storytelling, Menmuir reminds us of a painful truth: that our oceans are polluted beyond hope, and that without the will of governments and big corporations we feel powerless to reverse its effects. Shadowy figures dressed in grey and black watch silently from the quayside. Money exchanges hands. The contaminated fish are whisked away.
Timothy sees cracks appear in the shoreline. Are they literal or metaphorical? Perhaps they symbolise his world breaking apart. He realises that the quaint village is not as it seems, and that the cottage is not what he and his wife had hoped for when they bought it.
The author does in fact live on the Cornish coast and no doubt has drawn inspiration from his experiences there. Through his eloquent, original and succinct writing, Wyl Menmuir paints a bleak picture of the dystopian world we could be leaving for future generations. It is a moving and satisfying read, and perhaps a veiled warning to us all.
Joanne Morley-Hill