Tweet
DCA
17th September – 20th November 2016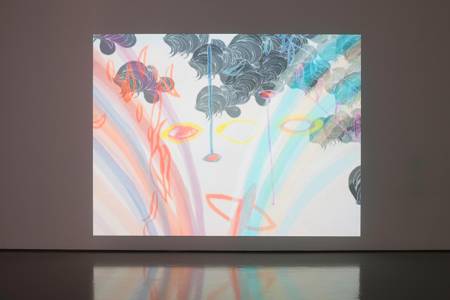 What do you get if you mix Kandinsky with Matisse, then add a tiny pinch of Picasso? The answer:   the work of Katy Dove. In this memorial exhibition –  Dove sadly having died of cancer in 2015 – DCA's curator Graeme Domke brings us a fascinating collection of the artist's colourful and enigmatic work.
Dove's style is intuitive and experimental; shapes and colours seem to spill across the paper, canvas or screen in a flowing, free-form way. Inspired by nature, many of the shapes she uses are strangely bird-like and figurative. She would often cut shapes out and build up a picture in layers, merging various media including etching, watercolour, gouache, embroidery and felt-tip pen.
This impressive collection fills two large rooms, as well as a small side room. In the first room is a series of several small pictures, many of which are undated and untitled. The pale colours on mainly white backgrounds give the room a calmness and serenity. A larger screenprint entitled Mirador seems to stand out from the rest, pitching bold colours against a black background.
We move on to the main gallery where we find two large painted silk wall-hangings which are emblematic of Dove's recognisably delicate touch. However, the room is dominated by three floor-to-ceiling film projections, each playing a series of animated films including Luna (2004), Meaning in Action (2013) and Cruel When Complete (2004). Rhythmic music – some composed by Dove herself, along with her all-girl band Muscles of Joy – fills the air, forming a fitting accompaniment to the works.
Headphones are neatly laid out for us to hear the different soundtracks. We are immersed in a cacophony of sounds including birdsong, screams and hums, but it's not unpleasant. In fact, the various sounds blend together with the moving images to create a calm, hypnotic effect. The shapes projected on to the wall seem to dance to the instrumental and vocal music. Shapes float before our eyes, overlapping and interacting with each other in layer upon layer of shapes, some identifiable as leaves, arms, legs and hands, others abstract. The effect of the pulsating movement and sound is strangely comforting and the overlaying of shapes is meditative and captivating, the work creating an immersive experience.
In a small room off the main gallery, we find a much smaller screen showing two more animated films entitled Fantasy Freedom (1999) and Motorhead (2002). This installation is a mini version of what we've just seen in the larger gallery; shapes float and flash across the screen in a kaleidoscope of living cells.
Eventually we emerge back out into the light and the harsh reality of the world with the sounds of the café below. On the outer wall we find three further prints entitled Dab, Cage and Face (2010). These consist of printed text with colour applied on top using chine-collé to form a satisfying series of lines and shapes.
Before attending Duncan of Jordanstone College of Art, Dove studied psychology and colour theory. In an interview with artist Simon Yuill in 2005 Dove said, "I am not so interested in analysing what these images might mean, but in using them as a starting point to explore a state of mind that is beyond language." We can see exactly what she meant: the power of her work is hard to convey in words; it has to be experienced.
Joanne Morley-Hill