George's Marvelous Medicine
Tweet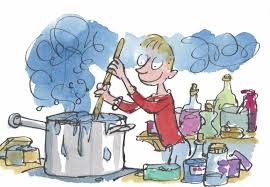 The audience at The Rep looked to be squirming as tens of children jumped, wiggled and waved, and agitated in their seats. Each one of them sits by a parent in a Santa hat, a caregiver with a  face painted to look like an elf, or a grandparent with tinsel around their necks that leave little sparkles in their wine glasses, all of them are desperate for the show to begin. The lights fall; out strides a girl dressed in a shirt patterned with a map of the world. George has taken the stage and the show is about to begin.
George's Marvelous Medicine is a children's classic that each child knows off by rote. Clouds dance along the electrical wires along the Rep's ceiling over the auditorium thus encroaching on space where the imaginative is supposed to stop. Even bored children, those that find it hard to remain at rest for long periods of time, have been catered for by these clouds, each one just a head lean away, waiting to be seen. The fact that George is played by a girl elicits only one simple question from a young girl behind me, "Is that girl supposed to be George?" A quick "yes" and then the matter is forgotten. Rebekah Lumsden proves herself every inch the role as she cleverly encapsulates the small ticks and easy word intonations that convince an eager audience that she is George, a young boy seeking revenge on his wicked grandma.
Ann Louise Ross playing the grandma and villain of the piece, steals the show with a myriad of facial expressions that would make Jim Carey whistle in admiration. Her voice harshly modulated, her eyes narrow and watchful, she fills her chair like it's a throne and we are all her humble subjects. As she grows, so too does her meanness which, deftly, never inspires outright hatred. Her careful cultivation of her character makes the audience glad of the eventual Karmic outcome she deserves, but not so glad that we don't all rush to our feet and applaud her as she takes a bow.
In terms of set, George's Marvelous Medicine is a far cry above the simple painted backgrounds given to me when I was a child. Vibrant lights that fall in sync with atmospheric music haunts our imaginations, weaving a web of wonder across the stage. Simple stage tricks such as moving inflatable chickens and a deceptive air vent help bring to life areas of the stage the eye isn't immediately drawn to. It is a joy to see George's medicine made in front of us and not just mimed. When the deodorant is sprayed – you smell it. When the axel grease is dumped in in handfuls – it leaves a stain on George's clothes. This isn't just a pantomime, as its name would imply. No. The Rep has gone all out in creating an experience than is more just a show, and one that entices you into the world of George's farm, just like what the smell of gingerbread did to Hanzel and Gretel in a forest within a fairytale.
A final mention goes to the men and women in the blue morph suits that help the less imaginative mind along; they help show the world on stage through George's eyes and remind the adults in attendance that this is a world where imaginary friends rule and disbelief must be suspended.
All in all, this production shows the ingenuity of The Rep's staging and the dedication of its actors. Immersive stage play, intricate acting and a feeling of imminent adventure make this a truly wonderful night out for all the family.
Conner McAleese