Elizabeth: The Forgotten Years (Shortlisted, 2016 Costa Biography Award)
Tweet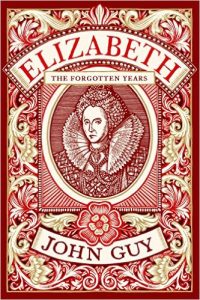 Any number of books and histories have been written about Queen Elizabeth and her reign. Several well-received films about her which have also explored aspects of her reign. So you might be forgiven in thinking John Guy is re-covering a well-researched topic. He explains what sets Elizabeth: The Forgotten Years apart when he declares, "I have made it my aim to scythe through spin and legend and come closer to [Elizabeth's] authentic voice." It takes the reading of only a few pages for this statement to prove itself to be true.
John Guy is  Fellow in History at Clare College, University of Cambridge, and an Honorary Professor at the University of St. Andrews. Don't most Historians claim to be finding new twists, and previously undiscovered revelations, when they produce written tracts? The difference with Guy is the sheer level of research evident and his almost-forensic examination of the sources from which he draws his conclusions. The rewards of this painstaking enquiry are manifest in this book where he does, indeed, open our eyes and our minds to a different take on the character and on the times of England's last Tudor monarch.
Good Queen Bess has long been offered as the moniker bestowed on Elizabeth by her subjects. Guy describes this as "…wonderful heady stuff, but is it true?" He describes the "many thousands of pages" he trawled through in order to confirm or deny this. His conclusion, that Elizabeth was unpopular even amongst those soldiers who fought for her, is demonstrated by words of hers he unearthed where she describes her veterans as "wandering idle persons of the conditions of rogues and vagabonds".
Elizabeth: The Forgotten Years concentrates on her later years. Guy challenges accepted assertions about Elizabeth and shows a very different truth.  The Elizabeth he introduces is one of contradictions; her confidence, so often shown in previous depictions, was nowhere near as marked in reality, and her frailty and vulnerability are instead exposed. An example of this is given at the time of the Spanish Armada of 1588: Guy shows Elizabeth suing for peace to an almost humiliating degree, rather than espousing the fearless optimism of a warrior queen.
Guy's  intensely detailed investigation of letters, some of which have never been brought to light before, and his reading of other written sources, challenge some of the myths around Elizabeth's part in the execution of Mary Queen of Scots, and  in her involvement in the choosing of James VI of Scotland as her successor. His research also questions some of the theories around her looks and sexual proclivities.
Guy's previous books, including My Heart is My Own: The Life of Mary Queen of Scots, and Tudor England, have demonstrated his facility in making historical non-fiction accessible. His attention to detail and the fastidious nature of his research give him the reputation of an eminent academician. His writing style that describes his version of the realities of history has given him a strong readership in his genre. He provides us with a book which is contentious in its claim to avoid contention.
Elizabeth: The Forgotten Years is an excellent biography that serves to correct many of the myths and misgivings around the life of one of England's most written about and portrayed women. He treats Elizabeth with respect, and though some of his revelations paint her in a less than heroic way, there is a clear indication that he views her as a special monarch and a subject worthy of his clinical attention.
Edward Small