Let Them Eat Chaos (Shortlisted, 2016 Costa Poetry Award)
Tweet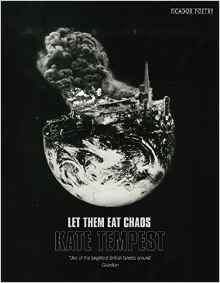 Kate Tempest's latest publication, Let Them Eat Chaos, comprises of a single long-poem which winds its way through seven individuals' lives, each at 4:18am in London. On the title page there is a short and simple disclaimer: "This poem was written to be read aloud". As a reader, you may have a nagging feeling that you aren't doing the work justice, that you are missing nuances and messing up the rhythm. Anyone who knows Tempest's work knows that her physical presence is such a huge part of it; her readings, or performances as they should more accurately be called, are nothing short of ground-breaking. Walking the fine but relatively unexplored line between rap and poetry, Tempest has carved a new genre for her work. Whilst the poet is best-known for her descriptions of the grittiness of urban life, human pain and partying, readers will enjoy her work's evolution into the consideration of more wide-ranging topics in Let Them Eat Chaos.
While the book states that the poem is for the ear, rather than just the eye, reading the page is also an enjoyable experience. The poem begins with a look at our world viewed from amongst this galaxy's planets, and then of the image of Earth cradling her "most successful child" – humans. She then offers vignettes of seven people's lives as they are found on the same London street, all awake at 4:18am.  Let Them Eat Chaos comes to a crescendo towards its end: a huge storm brews and the seven strangers are all united in the street as they emerge from their dwellings to witness the cataclysmic weather, and experience a shared "baptism" in the rain.
Tempest's last publication was her debut novel earlier this year but The Bricks that Built the Houses was not met with the same level of adoration and critical acclaim that has greeted her poetry. However, like her earlier epic-length poem Brand New Ancients (Picador, 2015), the sustained energy of the longer form works well in this new collection. That being said Let Them Eat Chaos feels like a series of poems along a similar theme rather than a single synergetic poem. There are sometimes "choruses" in the individual vignettes and presumably these refrains would make more sense in performance than in reading.
A true strength of Tempest's writing is her ability to portray the underbelly of inner-city life accurately, whether she focuses on economic oppression, "The squats we used to party in/ are flats we can't afford/ The dumps we did out dancing in/ have all been restored", or even when she draws visual images of what it is like to scrape a living in London in 2016: "Clothes in black bin-bags./ Blu-Tack greases the paintwork." This is gritty realism at its finest.
A minor reservation is that there are parts of the poem that border on preachiness. There are fleeting remarks about global warming: "the water is rising, the elephants and the polar bears are dying" as well as cursory mentions of "decimated forests", terrorism and gun violence amongst other significant topics. Perhaps the issues raised would have been stronger if they were given more space in the poem, or if they were left out entirely. Introducing such huge topics to add a line or two seems impudent in comparison to the generosity and subtlety of the rest of the piece.
Let Them Eat Chaos is a roller coaster of a book containing a poem that snakes its way through many different emotions and aspects of contemporary city life. A new reader, or listener, of Tempest will experience the same invigorating and exciting awakening unleashed by Let Them Eat Chaos that readers and listeners of her previous works have already enjoyed.
Poppy Jarratt