My Name is Leon (Shortlisted, 2016 Costa First Novel Award)
Tweet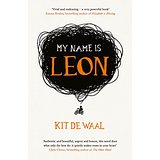 My Name is Leon is Kit de Waal's first published novel. Her short fiction has achieved success in the Bridport, Costa and Bath short story awards. A long career working with children in care made the subject matter a natural choice.
Carol has given birth to a baby brother for Leon. Baby Jake is white and Leon is mixed race. Carol is on her own and struggling to cope. At nine years of age Leon is often left in sole care of his brother whom he loves. Carol is hospitalised and baby Jake and Leon are sent to a foster carer. The fiercely protective Maureen is a paragon of the foster care service, experienced, direct and loving. Social workers flit in and out. There is one Leon likes, another whose eyeballs he would like to stab.
The rituals of placement visits and the tension and distrust these visits induce in Maureen are well-observed. In the absence of parents willing to take on both Leon and Jake, Jake is adopted. Leon's incomprehension at this is clearly shown as is Maureen's disgust at the decision. Leon notices that "Maureen has been quiet for days and she keeps looking at him and saying 'I don't; know, I honestly don't. It's a bad, bad world.'"
Leon makes friends with men in the local allotments and learns to garden. There are heated arguments about race and there is police harassment. It's an introduction to Leon of what a young black man's life can be. Yet all these incidents feel like box ticking on the part of de Waal, a shorthand way of exploring Leon's racial identity. It feels removed from the realities of Leon's life which revolve almost entirely around anxiety over the absence of his baby brother and uncertainty about his future. His yearning for his brother is poignant.
Leon remembers the weight of Jake in his arms and the feel of his brother's arms around his neck, his fingers pulling his hair, the smell of him.
The child's voice doesn't slip throughout the novel, keeping the narrative tightly focused on Leon. He's observant and bright, half hearing conversations and mistaking adult's dreams for realities.
They go into the kitchen but he can hear because only his face is watching the telly, every other inch of him is standing between them in the kitchen, watching their lips. Maureen will have her arms folded.
The descriptions of adults have veracity, Maureen's sister Sheila's old lady smell and the embarrassing clothes that Maureen wears. The rare meetings with his mother show her beauty diminishing with each visit
Carol has got smaller since he last saw her. No one is looking after her…

Most of all she looks as if she's been crying for days and days, like her eyes are made of liquid, like she's been asleep and had a nightmare, like she's never been happy in her whole life.
Plot lines lead to scenes that are meant to be tense, but they peter out and the reader's expectation of high drama is disappointed. The narrative is not quite tied up in a big shiny bow but it is tidied up more than it should have been.
Leon's experiences are difficult, but, compared to the reality for many children in care, they are relatively benign. It feels as if the book was designed for the market place rather than to reflect real life.
In an interview with The Bookseller, de Waal said "I didn't set out at all to write a political book or social commentary, I just wanted to write a page turner." This is a decent book. With more commitment and courage, it could have been a great one.
Sarah Isaac