The Essex Serpent (Longlisted, 2017 Baileys Women's Prize)
Tweet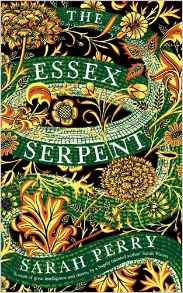 A sleepy Essex village is roused to a simmering hysteria as rumours that a monstrous 17th century winged sea serpent has returned, causing an oppressive pall of paranoia to descend on those who live by the banks of the Blackwater. The local vicar, educated and thoroughly modern, battles the rising superstitions of the villagers, a battle which is complicated by the arrival of a young widow from London, Cora Seabourne who is brimming with intelligence, curiosity and a desire to capture the beast for The Natural History Museum. The novel is all at once a commentary on poverty and social responsibility, a gothic-pastoral with exquisitely created settings populated with deeply complicated characters and, more than anything else, an exploration of diverse relationships.
Perry's London and Essex are so beautifully and vividly realised that you are immediately engrossed. Her descriptions of the world have such substance that the places feel as if they are characters themselves;
"thick sun aslant on the common forgives a multitude of sins. The dog-roses have gone over to crimson hips, skeins of geese unravel over the estuary, and cobwebs dress the gorse in silk."
Even the weather seems imbued with personality: "the day was fine, as if the sky regretted the slow release of winter's grip." Cora and Will are both obsessed with the beauty of the natural world; and Cora's son Francis and Will's wife Stella seek beauty in the small forgotten things of the world. Perry renders objects and places large and small with equal artistry; I have never wanted to see sunlight dappled forest floors or run my fingers over the rippling edge of a feather more than when reading this book.
If Perry's pastoral descriptions are glorious, her gothic nuances are gleefully wrought. The looming oppression of the serpent and the creeping marshes of World's End are sufficiently atmospheric but it is the decidedly gothic concept of duality, of multivalent meanings and perceptions that saturates the novel. It relies on the unreliable nature of subjective perception; how different people see and feel things differently, that allows the serpent it's reign of terror, something which Will comes to realise: "my mind is not to be trusted to interpret what my eyes perceive, … I begin to see that far from there being one truth alone, there may be several truths." Perry's characters are also more than they seem, they are haunted by their pasts, psychologically damaged, and struggling with the confines of station and gender. They find themselves inextricably bound to each other in pairings that seem to be polar opposites. There is none more gothic than the pairing of the handsome, rich and mild Dr Spencer and his impish, poor and abrasive friend Dr Garret, who simply must be a sneaky nod to Jekyll and Hyde. The confusing complexity of these relationships is perfectly explained by Cora; "To cleave to something is to cling to it, but to cleave something is to break it up. We are cleaved together – we are cleaved apart – everything that draws me to you is everything that drives me away."
In the author's note at the conclusion of The Essex Serpent, Sarah Perry declares her debt to "a number of books for [opening] the door to a Victorian age so like our own", an age preoccupied with science, religion and the supernatural, but also with socialism, capitalism, feminism and sexuality. Perry explores these themes through the lens of the notoriously repressed age, but without losing her modern insight. This is particularly evident in the modern dialogue (which is a touch unrealistic for the time. The difficult setting and the modern voice allow a poignant look at how much or how little the world has changed, and how important social bonds are to overcoming adversity. The Essex Serpent is a beautiful and powerful novel, and I will be reading it again.
Paula Lyttle