The Gustav Sonata (Longlisted, 2017 Baileys Women's Prize)
Tweet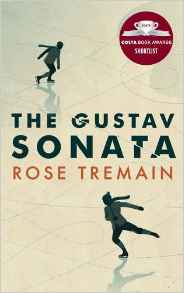 Rose Tremain's masterful, melancholic and ambitious novel is brimful of the sights and smells of post-war Switzerland, leaving little to the imagination.  Dispelling myths of serene neutrality, her book leads us though a winding path of uncertainty and angst, where "neutrality" is replaced with thorny indifference and there is little grey area between friendship and servitude. In this tantalising tale of adolescence, we follow Gustav Perle on his struggle of discovery. There are few heart-warming moments ahead for the young man.
The Gustav Sonata  dabbles with identity and personal attachment, youthful intrigue and inventiveness; it opens with  hope for young Gustav and his adored mother Emilie but rises and crashes in a crescendo of betrayal and newly-fangled adult awareness. Gustav's relationships throughout are hapless and, quite honestly, heartbreaking. "It was a game of love and death. Neither of us will ever speak about it. It's locked inside us." A dark novel, reflective perhaps of our own bitter nature, it also incorporates small, personal motifs,  a sense of hope when all else is in shadow.
The novel is slow to begin with. At the cliff face of poverty, this is a spellbinding account of life at the extreme. Yet Tremain soon canters along at a pace;  we encounter Gustav's idiosyncrasies and his burgeoning relationships without getting too bogged down with events beyond his control. Spilt into three parts like a sonata, as readers, we are dragged through a wonderful yet profound melody, which at the core focuses on Gustav's indominable spirit and his enduring nature, even when he is left bereft of true love and compassion by an indifferent mother and embittered life-long friend, Anton.  There are many frank moments of heartbreak, "He [Gustav] knew that, in spite of everything, he still loved her. In some part of himself, he'd always believed that his mother couldn't die before she'd learned to love him. As he'd got older, he'd tried to teach her how to do this before it was too late but he hadn't succeeded." The second part of the novel  changes tone, dealing with pre-war Switzerland and the ethical and moral problems that Gustav's policeman father faced in the enforced movement of Jews under Nazi-occupied Europe. This fast-paced section is laced with erotic and passionate moments. It also sadly counterpoints the depravity of Gustav's own late middle age in the third section. As an adult, Gustav overly conscientiously struggles to please Anton and his disappointed mother.
Vital aspects of Swiss culture are significant reminders of a past that Gustav clings to. These tiny details, which acquire significance over the course of his life, are Tremain's go-to descriptive tools, adding texture to a well-composed piece. The chapters on Gustav's father leave one with a profound understanding of Gustav's insecure attachments, foreshadowing the blasting of his son's life,  a sense of hopelessness and the burden of generations.
From bleak beginnings to humbled maturity, The Gustav Sonata is a well-crafted novel which leaves us with space for reflection at its end, the quality of any good book.
Dominic Younger