Pictures From An Exhibition
Tweet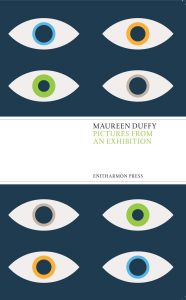 They say a lifelike portrait has eyes that follow you round the room; the four pairs of eyes on the cover of this collection by Maureen Duffy seem to do just that. The striking design by Rupert Gowar-Cliffe is arresting. Whose eyes are these? Are they Duffy's? Or are they our mind's eyes as we form mental pictures from the poet's thoughtfully chosen words? The cover makes us stop and look in the way that Duffy herself stops and looks at paintings and everyday objects. Even a dead pigeon on her roof is an object of contemplation.
Born in London to an English mother and Irish father, Duffy had a tough working class upbringing. Trips to museums and art galleries as a child were rare treats with lasting impressions; she devoured the artefacts she visited with open-eyed wonderment and was moved to write about them. Duffy was awed by their history and mythology and, especially, their portrayal of love and death. In the poem entitled "In the National Gallery, Edinburgh" she describes how the paintings both moved and comforted her, and provided an escape:
So I turn instead looking for consolation
to pictures in an enduring exhibition
and find you here, my talisman, Venus
with her boy Cupid, a teenage mother
and her impish son, and my alter ego
Actaeon, horned by Diana's girls, and torn
by his own desires. Rubens' lush ladies
I recognise at once across their gilded room.
Duffy's world outside the art galleries was dark and urban; in "Still Life With Dead Pigeon" she conveys the greyness of city life with a keen eye for detail:
Still life against the black ground of the flat
kitchen roof, like something after Oudry
but, seen from above, cruciform with outspread
wings, and headless as if dropped from hawk
or eagle talons. How otherwise could it
get there beyond the scaling
of marauding cat or fox?

[…]

Oh even this small death deserves an
epitaph, and no light should go out unmourned.
In "Black on Black", the bleakness Duffy feels is reflected back at her from Anslem Kiefer's paintings:
Growing up in the aftermath your colours
are grey and black, the tones of grief and guilt
with only a sprinkle of stardust hinting
at hope. You, we, are alone in the blasted
or frozen landscapes of nightmare, where
even the sunflowers are burned black.
As its name suggests, imagery is everything in this collection. In the poem "For Art's Sake", Duffy takes us beyond the 2D image into another dimension. We are now inside the head of one of Toulouse Lautrec's famous dancing girls, seeing the world from her point of view:
And the little guy always sketching me
from the corner, his legs cut down while my
skinny shanks boleroed wildly, he made me
famous, waiting at the stage door when
I left, eyes cast down, gone inside myself
freed from those other eyes that had held me
spinning their desires or lusting till I began.

I became a whirling dervish, a knees-up
bacchante while he hatched, etched
set me for all time in stone. The rest
of my life an afterword, encore of lovers
sickness, two world wars, a lost child
charity, memorials. And the little man
with the half-mast shins? He died long ago.
Pictures From An Exhibition is accessible, detailed and lyrical. Above all, it teaches us a valuable lesson. In our contemporary world where virtual reality seems to be taking over from reality, we need to stop, look and contemplate the beauty in the world around us, and allow ourselves to be moved by the things we see. Thank you, Maureen Duffy, for opening our eyes.
Joanne Morley-Hill