Little Crackers: Tales from the Edge
Tweet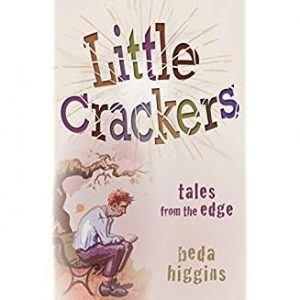 "The Suitcase" exemplifies the central themes that make this collection of short stories an interesting and entertaining read. Overall, I found that the collection was well-written in presenting a spectrum of human experiences, with the author drawing vividly on episodes, usually tragic or traumatic, from across the lifespan. The author also explores the deceptive nature of appearances, as characters conceal their true nature from other people. However, it also occurs as the result of a character's judgement or interpretation of someone else, which is influenced by personal bias or prejudice.
 "The Suitcase" is written as a sympathetic character piece about transvestism, in which a married man, Jim, lies to his wife, Donna, about a work trip to London so that he can have the opportunity to freely experiment with his secret obsession. In the beginning, we are told that: "It was the dressing-up he liked, that's all, the sensuous thrill of it. He knew Donna wouldn't understand either – he didn't understand, himself, but was driven to do it." The story reveals in flashback that Jim has prepared for the occasion of dressing-up for some time. He has tried on his wife's makeup ("For several weeks on a Wednesday evening, while Donna was at her pilates class, he'd been practising with shades and colours to get the right balance. The autumn range seemed to be best suited to his skin") and purchased lingerie, apparently for his wife. Jim remembers that the shop assistant described the stockings he wears on the day as a "'second skin'". This metaphor is important because it emphasises transvestism as a change in identity, a sort of metamorphosis "He felt like a butterfly emerging from a cocoon.", which is not favourably received by members of the public. Jim is mocked and criticised by youth and old age, however he is unfazed, rather enjoying attention as a 'controversial' figure: "He noticed people glance at him. He felt liberated; the more they stared, the more confident he felt". Metaphor is also used to convey Jim's changing attitude about himself. At first, he feels elated: "When he'd set out in his woman's clothes he'd felt like a bird set free, flying high". After he is recognised by his wife's transphobic sister, who accuses Jim of cheating on his wife, he feels depressed and trapped: "Now he was clipped, a freak exhibit in a cage".
I find that "The Suitcase" works on many levels that are characteristic of the collection overall. The prose is economical, focusing on telling its story as visually as possible. The narration is like a cinematic 'camera eye', which frames the action in carefully controlled sequences that grab the reader's attention. For example, when Jim examines himself in the mirror. The narration focuses on subtle details that foreshadow future events: "He was neatly shaved, his hair combed meticulously […] He felt jittery and hadn't been able to eat breakfast". The story's title, referencing the eponymous object used by the protagonist, also functions as a metaphor that embodies another theme of the collection: secrets, particularly the kind of secrets that people carry with them in their everyday lives, such as Jim in this story.
Adam James Cuthbert