Tweet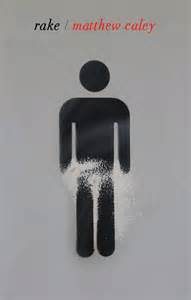 Matthew Caley's fifth collection of poems – Rake – is adventurous, and deliciously eccentric. Having previously been shortlisted for the Forward Prize for Best First Collection with Thirst, and also having garnered much praise for the bold innovation of his last collection, Apparently, Caley has established himself as a poet who is unafraid to push boundaries and take readers somewhere new. He does exactly this in Rake, a collection that he claims can be read in a number of ways. The first –  and undoubtedly the most exciting reading – is that this is the "oblique diary of an immortal time-travelling rake" searching for his true love.
Rake, a term given to a man living a life of unadulterated debauchery, is explored in this collection of playful poems as concept and character. Indeed, Caley reflects the character of the ambiguous rake in the frivolity and irresistible wittiness of poems such as "Acute Hot Knee":
                    If I behold your
rucked-up dress, revealing as
it does one acute
hot knee in all its bare-assed
actuality, nothing

is composed. My nerve
-endings blossom to a tree,
its root suffused by a pale and horny sun, for
what divinely-revealed knee[.]
Caley makes confident experimentations with form, notably here with the tanka, a form of Japanese poetry using only five and seven syllables in five lines, building stanzas with it – a feature which reappears in other poems throughout the collection. The abundance of forms used in Rake – which include sonnets, mono-rhymers, and the aptly named hybrid of a sonnet and tanka, the "tonnet" – appear to make a point: one may wish to connect the number of poetic forms to the rake's sexual encounters.
Time also shifts and changes in the collection – Caley makes what are sometimes smooth yet jarring transitions between temporal periods. From ancient Egypt; to the Wild West, Rake sets no physical boundaries as Caley executes his ability to transport his reader.  "Her Sleepy Egypt" sees the blurring of lines between the historical and modern world, as we are left to question Caley's other idea, in which Rake is the sum of highly imaginative conflations of somebody who has simply had "too many espressos". It begins:
              Where the river bed
sifts mica-chips and gravel,
dust-blue grapes ferment
upon the vine, pyramids slant
whitely, bulrushes grow out[.]
The poem ends with a tone of sorrow, of emptiness, as the sun sets on luxurious Egypt. The speaker laments:
            He's gone. By her wreck
of a bed, one snakeskin shoe,
Ferrero Rocher
wrapper, Athena poster
a smooth sunset in Cairo.
Intertextuality is a predominant feature of this collection; Caley draws inspiration from, and alludes to, a number of texts, including the French novel Les Liaisons Dangereuses, a tale of decadence, seduction, and boastfulness – something that one can certainly detect echoes of in Rake. Similarly, Barthes' Lover's Discourse, steeped in amorous exchanges, features as fragments. Baudelaire also inspires the poetry, as is seen most explicitly in "Foregone Conclusions":
I had the pleasure of Jeanne Duval
somewhere between Gautier and de Banville
a few months before
she shacked up with Baudelaire.
The aesthetic quality of language in the collection often leads one to think that one is admiring a work of art:
As she breathes, breathes honey into rock
or the fragrance of magnolia petals
onto a Southern wind, what gets blown back[.]
Not for the faint-hearted, Rake is provocative, yet delightfully playful. In paying close attention to details, Caley crafts poems which are immensely beautiful. His candour and wit keeps us reading along, just as he keeps us guessing; immortal time-travelling rake, a series of immortal time-travelling rakes, or simply the imagination of an espresso drinker. For those who appreciate poetry with an edge, poetry that is lively yet still manages to maintain a sense of vulnerability, this highly creative collection is most definitely worth reading.
Stephanie Smith