Travel Light, Travel Dark
Tweet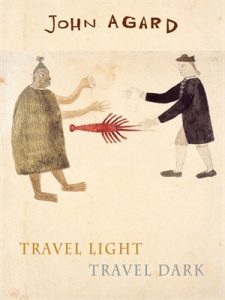 Jimi Hendrix's melodies merge with the symphonies of George Frideric Handel; an ode to "philosophical couch Platos" resides snugly amongst verse confronting Western imperialism. Unconventional? Indeed – Agard dances between the light and the dark of the human condition throughout Travel Light, Travel Dark, his mischievous ingenuity shining throughout.
Split into four sections, this collection of poems opens with an ode to colour. A liberating lightness fills his short verse – Agard possesses the ability to pull out hidden meanings from the mundane, not unlike a child who constantly finds wonder in the world. Drawing emotion from colour, his words paint pictures – this translation of sensory output into language is at the crux of much of Agard's poetry. Tactility is inherent in his wordplay, particularly in "Water Music of a Different Kind", a poem that could just as easily be a mantra of sorts. "Water music of the womb's first fountain / Water music of the eyes running stream". There is a spiritual element in the way his lines embody forces of nature, often referencing the connections indigenous cultures hold with the earth. Aptly, his words feel most at home as chants, whispered lightly under the breath.
 Water is something that Agard returns to again and again, a life-force holding the weight of history, cultures, and emotional depths. A channel connecting history with the present day; the ocean forgets nothing: "Pour a glass of this river/ and lift history to your lips", Agard asks of us. And indeed, he is unafraid to quench our thirst. In "Columbus Discovers Himself", history's re-writing of Columbus as an "explorer" is challenged – Agard unabashedly reflects the "Othering" gaze of Whiteness back onto itself. Through reclaiming the past, his Afro-Guyanese roots are contextualised as something to be viewed on their own terms, as opposed to being seen solely through the scope of the White gaze.
There are times where topics of a metaphysical nature are explored. With "Nothingness / Earth without form is potential bliss", Agard laments poetically about "unmaking" the world. What is novel about his approach is that he leans just close enough to the fatalistic to be intriguing, but never nihilistic. Put simply? He holds hope. He still holds hope for the "little Brits with diasporas in their skin / who learn to occupy the centre and the margin". He is grounded enough in the intimate life-flow of the world to hold a candle, spiting the gloom instead of converging with it. Indeed, the element of this book I most enjoy is Agard's skilful employment of his trademark sardonic humour as a means to approach contentious topics. "White Actor Prepares to be Othello" sees him mocking the act of blackface:
Shall I invoke the muse of melanin?
Perhaps root out my family tree
for traces of darker kin?
Through creating this hypothetical monologue, Agard unapologetically laments the absurdity within the innately racist practice – inviting us as readers too, to be in on the joke.
At the heart of Travel Light, Travel Dark is a simple, and poignant message. One of luxuriating in the haze of a lazy summer daze…of appreciating the present moment, of just being. In a consumerist society where we all are seemingly striving for something just out of reach, these poems are the first breath of fresh air in lungs gasping. Agard allows us to make home in his whimsy, inviting us in with him. Never ahistorical – he brings us into an awareness where he readily admits that the world is far from utopian. Yet, in the end: we have love, we have language, and we have each other. Maybe that's not enough. But sometimes, and in the midst of bleak times, it can be lovely to be offered a little reminder of the light amidst the dark.
Anita Bhadani