Tweet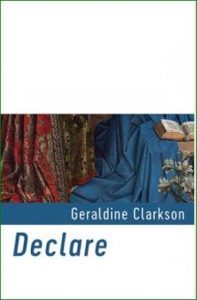 Works of literature allow readers to escape to any location in the world and to any era in history, an idea put to work in Geraldine Clarkson's latest collection, Declare in which she depicts unfamiliar locations in enthralling ways. Clarkson's aptitude has already been acknowledged: she has won several poetry awards and most notably has enjoyed successes in Poetry London and Ambit competitions. In this collection, Clarkson explores different situations with a sense of wonderment, each poem bearing a unique hallmark of the poet's own willingness to appreciate new settings. Ultimately, it is that particular historical flair, even for poems in a contemporary setting, that creates an inimitable connection between past and present, and between reader and narrator.
The poems in Declare are arranged in no immediately apparent order. Each title, from "UNDERLAND" to "a young woman undressed me and", possesses its own stylistic quality, language and tone, each very different in form and meaning from its facing or neighboring verse.
Drawing inspiration from her childhood in the West of Ireland and her years spent in a monastic community in Peru, Clarkson is not only able to depict the past intermingling with the present, but is also able to convey and to be enthused by scenes from her Catholic education. Her background influences the collection's titular poem in which the narrator is Mary, considered in the time following the Annunciation. Simultaneously inspired by her faith and love of linguistics, Clarkson evokes a state of heightened emotion whilst retaining a consistent and historically accurate telling:
rough hillsides like a duck-and-drakes pebble, the syllable guttering over and over, me trying to outpace it. And then E!rubicund humble puffed–out and plumped wineskin, replete.
Clarkson's skillful portrayal of emotion, works in several ways.  Consider her stylistic choices of vocabulary, but also note that the construction of the poem which is made up of several run-on sentences and little punctuation. This is an effective device, echoing Mary's overflowing feelings of joy and panic. Harsh sounds and a list of short, sharp words depict the urgency of the matter, coupled with the narrator's own implied breathlessness. The poet echoes the narrator's wide range of emotions, and enhances them through her use of sharp alliteration of "d" sounds, which certainly showcases her interest in sound and pacing. Essentially, this is a collection which focuses on how language and the sentiments behind it transcend time.
Clarkson's ability to weave words such as "rubicund" seamlessly into her poems enables her readers to travel from the twenty-first century into far gone times. The opening poem, "Camelament", is laid out in a series of varying line lengths that might be likened to the crashing of waves against a ship. This has particular poignancy as it is told from a sailor's perspective as he reminisces about his ship during a battle. Clarkson coerces us into the world of the sea, convincing us that the narrator is a fully experienced sailor:
Bilge goes out with the suds.
A chain of Cheyennes
touches the lodge of
an enemy. You explode [.]
It is Clarkson's delicate placement of sailing terms such as "bilge" that compels the reader into taking an almost active stance in the narrative. One could argue that simply researching the topic could provide the necessary materials required to create a convincing atmosphere, centered around someone navigating their way through the high seas. However, Clarkson's skill enables her to almost invisibly sew in vocabulary of the period to create a rhythmic flow.
These poems offer a celebration of language as a gateway to the past and a reminder that the power of words can often transcend the test of time.
Dervla McCormick