In Reality: Selected Poems
Tweet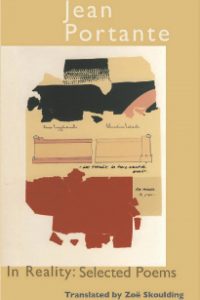 Seren Book's In Reality: Selected Poems is the first major glimpse of poetry by award winning Luxembourger Jean Portante, translated for English speaking readers. The book gathers selected poems from his major collections, notably In Reality and What Does and What Doesn't Come to Pass, and provides the original French in parallel with Zoë Skoulding's  English translation.
This is an extremely respectful attempt to bring Portante's lyrical poetry to life. Translation is difficult to get right and perhaps poetry translation especially so; this is particularly true for Skoulding as Portante loves to play with language. In this collection there are puns and parallels which are dependent on the particulars of the French language. "Poem IV" in "The Work of the Lung" is a perfect example of this – certain words cannot be translated for the English version without losing the full sense of the original:
cerf n'a pas quartre lettres comme mort
le r là où il faut un peu avant la fin.
This would normally be translated roughly as "Stag does not have four letters like death/ the r in the right place just before the end." However, this wouldn't hold the same meaning or poetic truth as the original. As a result, Skoulding has had to retain the words "cerf" and "mort'"to remedy the  problems posed by translation. And as Skoulding herself points out in the preface, the translation does struggle. However, by providing the French version alongside the translation this collection keeps the integrity of the poems intact.
Cerf doesn't have four letters like mort
the r in the right place just before the end.
Luckily, however, Portante's writing style  arguably has a rough and ready quality; an approximated translation has merits, even if it is consequently difficult to read. The poet's choice to write in French is deliberate (French is not his first language) as it helps create the broken tone he sought. The poetry doesn't therefore read smoothly, but this reflects his point ably –   his considered  theme, after all, is of life being hard.
With this in mind, Portante's work is not entry level poetry. It's rich in confusion. It's flooded with disjointed imagery in sentences that flow into something unexpected. Even after repeated readings it can be a heavy task to understand what he is saying. Yet this complexity does not undermine the poet's work at all. Whether you understand it or not, he has somehow still managed to make the reader feel his poems… and perhaps Eliot would have had something to say about that!  The sonnets of What Does and What Doesn't Come to Pass, written after the L'Aquilia earthquake of 2009, read like a story that makes very little sense but nonetheless  connect the reader and poet. The sombre tone of these poems is distinctive and you will be able to perceive the sense of surrendering to the world's bleakness, irrespective of whether you claim to fully understand the lines or not. They offer a lyrical observation of the world through a stream of consciousness trying to find sense in the sensory, which is connected by phrases such as "I mean" and recurring imagery such as the Shadow stuck between life and death… very like the earthquake survivors themselves.
These poems are not intended to be straightforward, being deliberately translated  in a way linguistic purists might term "crude". They are meant to be reread countless times before even a flicker of understanding can be made in order to allow the subject matter to acquire depth and reign true. If that's something you think you can cope with then you will discover a raw take on life through Portante's work. If you feel that's too hard a task, don't give up completely as, even scanning these poems will bring a range of extraordinary feelings.
Megan Ord