Tweet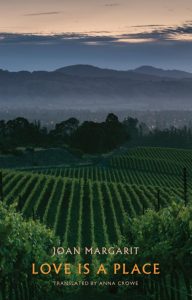 The three collections encapsulated in Love is a place – It wasn't far away or difficult (2010), The signal is fading (2012) and From where to begin to love again (2014) have been translated from Catalan to English by Anna Crowe, a skilled veteran of poetry in translation.
Joan Margarit is an award-winning poet who was born and grew up in the shadow of the Spanish Civil and Second World Wars, and originally wrote in Spanish, but then started writing in the language of his homeland, Catalan.
The most memorable poems from these collections, for me, are the ones which reflect something of my own life.  In "Last poem to my mother", there will be a strong identification for anyone who has lost a certain type of mother in a certain type of end- of-life situation:
Your job was not in the light,
but further back, in the half light.
Tired of being a mother.  Desiring
an oblivion that you had already arranged.
I was also deeply moved by the poem "Celebrity", which has an explanatory footnote about the franquista politician who is the titular character but never named – presumably because he is representative of so many former fascist leaders and politicians in Spain:
And he was shining with pride – it was in seventy-five –
in his fascist uniform:
blue shirt and white jacket
with the yoke and arrows and with the black belt.
When he died, the Government
Honoured his corpse with a lying-in-state
At the Palau de la Generalitat.
Not a single member of Parliament opposed it.
Partly due to his involvement in awarding the Olympics to Barcelona, past atrocities were forgotten or ignored.  The poem finishes with the line – "We have tried to survive and to make our way home".  There is so much here to admire, so much truth that is universally applicable out of such a specific case.
It is unfortunate that we don't have the original Catalan text alongside the English, as is the case in many other books of poetry in the translated form.  As a linguist, it's an omission which niggles throughout the reading of the poems.  There are arguments for every approach to translation – the literal/faithful approach, the creative rewriting, or a combination of both.  When there is no original text then we cannot know which approach has been taken.  However, if I look at these poems in isolation, as I must, they have that sound and structure to them that declares they were not originally written in English (ignoring those which have cultural or geographical clues).
Many of us of a certain age may have gone through a "mid-life crisis" – when you realise that the time that remains is racing forwards to meet you.  Many of the poems contained in these collections give the impression of having been written during some version of this, not so much a crisis perhaps, but a state of mind where the poet, now approaching his eighties, is looking back at some of the most lasting impressions from the experiences of his life, whilst simultaneously philosophising on the meaning of life and death.  Common themes and threads throughout the poems include the death of Margarit's family members, especially his daughter, Joana, the unspoken horrors of the Spanish Civil War, and the natural world and its association with memory and state of mind.
There were several poems, as mentioned, that made me draw in my breath with the power of their insight, but generally for me these collections lacked those small recognisable details and uplifting moments that I was looking for. Love is a place has much to recommend it, but I'm sure there are many other older readers who will find so much more to appreciate within these pages than I have.  If I'm fortunate enough to be here in twenty years, I'll come back to this book.  I suspect I will adore every line.
Lorna Hanlon