The Clinic, Memory: New and Selected Poems
Tweet
Con-men, poker-players, poets
 put the solid world at risk
 and then enjoy the dance...

("The Water Magician of San Diego")
Elaine Feinstein — poet, novelist, playwright, biographer and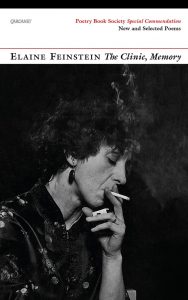 translator—has selected poems for The Clinic, Memory from twelve collections written over five decades which, alongside newly-written poems; these do indeed "put the solid world at risk". Many of the poems are rooted in personal experience and family history so the whole volume reads as a loping memoir of sorts, from memories of childhood, lovers, marriage and motherhood to widowhood, cancer treatment and mortality. The overall effect is of a memento mori – death lurks in the background of almost every poem, putting every certainty at risk.
It took me a few poems to settle into her quiet, meandering pace but I soon found myself absorbed by her worldview. Not least because Feinstein is a first-class storyteller.  She is also a great observer of human traits and behaviours, and captures their subtleties and complexities in her poetry. Many of her poems concern her family's Russian-Jewish origins but there are also poems about cyber-bullying, autism and refugees, and how we take "our shape from the/damage we do one another" ("Marriage").  There are long narrative poems, elegies, nature poems, poems with Greek gods and goddesses at their heart. Yet every poem is about humanity – its small glories and griefs.
"Hair", the opening poem, looks back wistfully to a time of good health, happy family life, "and the erotic charge/of American poetry".  Yet, it is because of the hardships and difficulties of her current situation, undergoing chemotherapy, that the final stanza is so sublime:
            A curly white fur now covers my head. Some like it.
                        I'm not sure, though I've junked the wig,
            and today coming back from the hospital in sunshine
                        through Regents Park, I watched
            the branches of bare trees catch November gold
                        and was suffused with extravagant happiness.
Nor does regret fuel the second poem, "Mirror Talk", in which the narrator comes to have a better understanding of her mother, their relationship, and how each of them have imparted a sense of failure to the other. The younger narrator turned away from her mother:
                                    [……] not seeing the stamina
                        you needed to live alongside
            my father's euphoric generosity, his drama

            of disaster and resilience or how his laughing
                        indulgence stole my love
            while you read school reports, met teachers, dabbed
                        my chickenpox at night, […]
Feinstein's politics are always profoundly personal, whether in a domestic or global context,  contemporary politics always understood through her own particular lens. In "The News Channel", she compares her grandfather's experiences as a refugee with the plight of Syrian refugees in Europe today. The quiet refrain, "What news.        There is no news" says so much both about how inured we have become to suffering, and also how the displacement of peoples has always been with us.
There's often a casual, conversational quality to Feinstein's style which evokes intimacy – as if we're all in the room together. "Annus Mirabilis, 1989", begins:
            Ten years ago, beneath the Hotel Astoria,
                        we watched a dissident cabaret in Budapest,
            where they showed Einstein as a Jewish tailor.
                        All the women on stage were elegantly dressed.
Occasionally, there's an echo of Sylvia Plath – "Drunken Tuesday", for example, opens:
            Old nag
            I hack on burning[.]
And there are echoes, too, in the folkloric motifs, dramatic qualities and starkness in Feinstein's work, of Tsvetaeva and Akhmatova whose work she has translated.
Though Feinstein has confronted uncomfortable subjects of ageing, betrayal, absence and loss throughout the five decades from which the poems of The Clinic, Memory are drawn, nonetheless, even in the bleakest moments, she encourages us all to "enjoy the dance."
Lindsay Macgregor