Opinion: Simple Home Truths
Tweet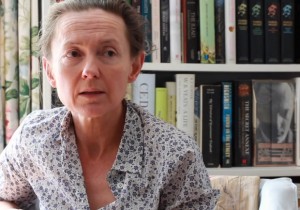 What's so great about simplicity? We're always being told that the simple life is the right kind of life, uncluttered by unnecessary anxieties and the desires that fuel them. The simple message is the honest one, and the simple fact the thing that really happened. Now of course "simple" has got all complicated by terrifying conservative lurch to the right in  politics, here and across the Atlantic. Simple means British values that reduce all thinking to simple slogans; Trump has made acting like a simpleton the kind of attribute that can get you elected President of the United States.
Yet there's another kind of simple that has always been deeply instructive, a way of learning who we are, and it's the great unifying quality in novels and prose. The kind of simple language and sentence structure that renders clear, straightforward description of events and characters in ways that shimmer with the complexities and nuances of being human are more important than ever to us now. This kind of writing deploys words that show, more than most other means of communication can, the exact qualities of a person and how they did something – a quality Elizabeth Bowen attributed to the New Zealand writer Katherine Mansfield's work: "It's as though she writes in transparent ink" Bowen wrote herself, beautifully simply, and transparently of Mansfield's short stories and style.
Fiction can certainly help remind us who we are in a world gone crazed with phony simplicities, post truths and the like. The best stories, however fretted over with sophisticated plots or subject or research, are still those that sit squarely and memorably in the mind as though they have always been there. As simple as any affecting experience are the fictions we love and return to, over and over again. You don't need to be a rocket scientist to count War and Peace as part of your own experience. In the midst of all those patronyms and massive extended families and historical points of war, there is the clear prose, the simplicity of a narrative intent to present human life in all its tender, hopeful, disappointed and joyful detail.
So we need to be careful, then, about retaining the parts of simple that aren't being tainted by the creeping conservatism of the nationalist and pro-right wing sort. Forget the simple life that's being used to advertise a simplistic nationalism – whether it's the sort of Fish and Chips and and a pint of UKIP, Tartan Scottishness, or Mom's Apple Pie and Making America Great again. We need to make way instead for the kind of writing, discussion and public debate that privileges a clear and methodical pattern of thought that cuts through all the 4th of July style razzamataz coming from Washington and the nonsense here about the old fashioned British values or ScottLAND.
Fiction can help. Words count. The writer Cynthia Rogerson, born in San Franscico but a long time resident of the Highlands – she used to co direct the Moniack Mhor Writers Centre in Inverness-shire – has written, under the pen name Addison Jones, a beautifully simple novel, Wait for me, Jack, that is about nothing except domestic life, marriage. It begins with the minute by minute frustrations of a very old couple, their memories blurred by stroke and dementia, and spools back, chapter by chapter, through their long marriage to the moment they first met, barely out of their teens. It's a simple approach that is also as complicated as domestic life is. Somehow nothing goes on, and yet everything does. It reminds me how we need novels to remind us that simplicity is actually profound.
© Kirsty Gunn