Tweet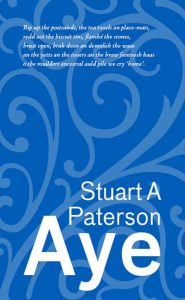 Scottish poet and kenspeckle performer of his work, Stuart A Paterson has had a long and established career, publishing his first poetry collection Mulaney of Larne and other Poems in 1991. He has since released several other poetry collections, as well as received a prestigious Eric Gregory Award. Stuart hails from Robert Burns' Ayrshire hometown, Kilmarnock but now resides, walks and agitates in Dumfries and Galloway, also famously Burns' territory.  Undeniably, the National Bard's work has had a deep impact on Paterson, and it can surely be seen this, his first poetry collection written in Scots, Aye.
Aye encompasses Scots language in such a way that deeply reflects Scottish culture as well as its unique humour. It also takes a very unashamedly biased plunge into Scottish politics, arguably a brave move considering the enduring sores and sensitivities still raw from the 2015 independence referendum. Certainly, there is a  risk that those who do not share Paterson's obviously nationalistic views might lay his collection aside after reading a particularly opinionated and polemical poem such as "Naw". Well, whatever your political allegiance, that would be a great pity, as you would, miss out on a finely-honed collection which is more than worthy of being read cover to cover, and repeatedly. Regardless of its political stance, and Paterson might not thank me for saying it, the poetry works.  Nonetheless, I felt slightly uncomfortable with last line of "Naw": "they had nae richt. They votit Naw." We may have to agree to differ on the subject of rights! However, good poetry should always evoke emotion, good and/or bad.  Did Paterson know Aye would result in this sort of reaction? Yes, I'm sure he did.
For me, as a Scot, there is a strong, warming sense of familiarity throughout, but I think it could be said that that atmosphere extends outwards and not only to Scots. That warmth is especially apparent in my personal favourite "Ettercap". I'm not sure that I have ever laughed so hard at a poem. This particular stanza really sums up the hilarity behind the catastrophizing of a spider in the vicinity of someone truly arachnophobic:
Ye ken, it's doonricht daft an wrang
when somethin jist twae inches lang
can mak ye swait an haud yer braith
an frichten ye near hauf tae daith.
There's something though it disnae reckon,
for Ah hae got a secret weapon.
It's muckle, terrible an affy –
the Ettercap-destroyin baffy.
The poem "Rockliffe" ends the collection on a sombre note, a contrast to the humourous, fast-paced digs at the political landscape earlier on. Here, the poet slows down to leave room for what seems deep regretful thought:
This seems to be hoo it's ayewes endit –
things we thocht had come tae pass
hae noo jist stertit.
Aye is a strong collection of skillfully crafted poems that brings together Scots politics and culture in a manner that flies in the face of mainstream poetry in its proud, defiant use of Scots language. Perhaps that very strength could be one of its limitations as it is not the easiest of reads for anyone who is not comfortable with Scots. I suspect that will not trouble the activist Paterson, who will see that as a good reason for Scots in particular to work that bit harder with their own leid. Undoubtedly, there would be many who might trip at the written word who would gain greatly from hearing these poems performed. All in all, an extremely enjoyable, emotive rollercoasting read.
Angela Erskine