Of Other Spaces: Where Does Gesture Become Event?
Tweet
Cooper Gallery, DJCAD
Chapter One: 27th November – 16th December 2016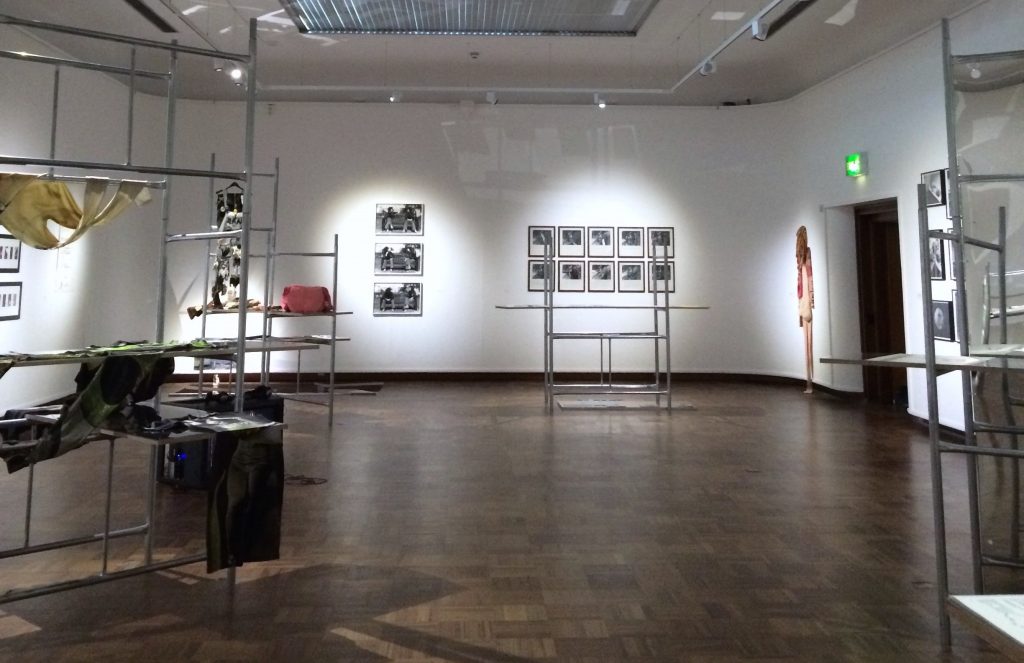 The antecedent of a two-chapter display, Of Other Spaces: Where Does Gesture Become Event? features artists, writers and thinkers, together eliciting the essential role of spontaneous collaboration in life. Acknowledging and celebrating the journey of feminism in the past half-century of artwork, collaboration and activism, the Cooper Gallery is an intriguingly appropriate vehicle for its latest exhibition. 
Comprising of four rooms dispersed between two floors, the space has a meandering course of movement. Plunged into inky darkness as they ascend to the large upper gallery, a stark contrast to the pure white of the lower gallery, the viewer weaves between displays as they chose. Thresholds between gallery rooms offer structure, emblematic as the work on display progresses closer to present day. The dialogical arrangement confronts you with the realisation that despite some artworks being decades old, their context remains contemporary.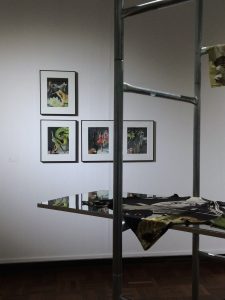 The exhibitions title pays tribute to philosopher Hannah Arendt's views of politics as a "space of appearance"; gestures cannot form a gateway for the new without being both seen and heard. The integration of Arendt's ideology within "Of Other Spaces: Where does gesture become event?" reinvigorates decades of work provocatively with the use of (notably) photography, textiles, projections, documentation and text in an attempt to catalyse event. 
This is particularly evident in "Dialogue with a Rapist" (1978) by Alexis Hunter. Confronted and threatened with assault, Hunter created an evocative photography series with corresponding dialogue from that night. The re-enactment photos are blurred and abstracted by super- imposition, the accompanying text reaffirming a sensation of vulnerability in its delicacy, but there is juxtaposition in the formality with which it has been recorded. The marriage of imagery and text is at its strongest here. Text plays an integral role in anchoring displays of complicated documentation, providing explanation and creating balance between the factual and creative…for the most part. There was, however, disconnect; displays become weighty due to the gravity of the text, or chaotic in the ambiguous division between past and present works. This interrupts the otherwise-harmonious flow from space to space. Although it may be intentionally curated to mimic an archival setting, some areas of the exhibition could benefit from the archival matter being clearly identifiable in the presence of new work or explanatory text.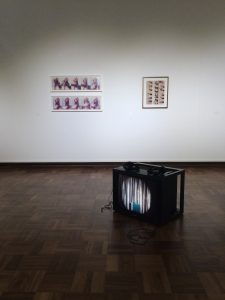 Consistent in all areas of the exhibition was the striking displays of artistic duo Cullinan Richards. Scaffolding, plywood shelving and mirrored acrylic of "A Modular Infrastructure Acting In Concert with Cooper Gallery" simultaneously dominate and fuse together the different rooms. Their freestanding independent nature is largely responsible for the continually changing movement within the exhibition, emphasised by their individual design (based on the work they display); the viewers movement a reaction to the individuality of each display. Many displays offer content from various angles making them approachable from several directions – leaving no set pattern to explore the galleries. Cullinan Richards' key interest within their practice is to initiate a feminine approach to material, established in the supporting structures in this context with unity and solidity. Alternatively, the mirrored acrylic, although solid, is innately fragile. 
Mirrored acrylic is present in another bold artwork: "Dialogue with Rose Finn-Kelcey on Divisions of Self" photographed by Anne Bean in 1977 and reinvigorated through a collaboration with Manuel Vason for this exhibition. The original photograph is situated at the base of the wall, reflected in a mirror arranged on the ground beneath it – a broken mirror, shattered into broad, jagged spears. Resting on the mirrors surface are two clay figures cut in half, with reference to the artworks title, by a horseshoe of semi-circular gold wire. The segments of mirror reinforce division, throwing fragments of light on to the walls, reaching up to the ceiling where reflections from Cullinan Richards' supporting structures form entrancing constellations to dissect the rooms canopy. 
Of Other Spaces: Where Does Gesture Become Event? responds to the history of feminism with respect and ingenuity to create a space which is as approachable as it is provocative. Above all it is a highly reflective experience personally, socially and politically.
Anna Macpherson