Of Other Spaces: Where does gesture become event? (Chapter Two)
Tweet
Cooper Gallery, DJCAD
20th January – 4th March 2017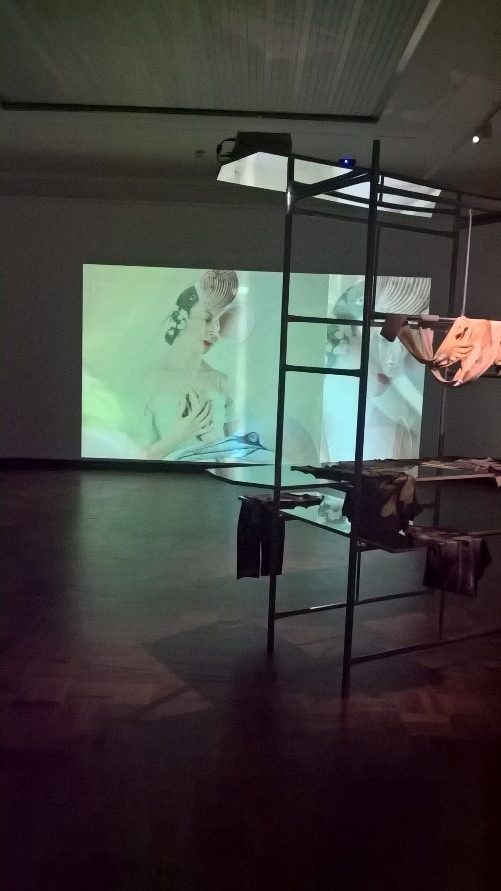 Cooper Gallery brings us the final chapter of a two-part exhibition and accompanying events series, Of Other Spaces: Where does gesture become event? With the title's nod to readings of Hannah Arendt, we are to expect intelligent, philosophical, and feminist thinking – Of Other Spaces gives us exactly this.
Referring back to the initial Chapter which hosted many of the same artists, it was difficult to see how Chapter Two would follow suit – particularly with the inspiring, collective finality of Cooper Gallery's culminating 12 Hour Action Group event, which took place in December 2016. What does follow, is a confident and prominently video and performance-based exhibition with references to its opening chapter and thoughts beyond. The acutely feminist narrative is continued with different pieces from many of the same artists featured in Chapter One, Hanna Tuulikki's cloud-cuckoo-island seeming to be the only work from an artist not already having appeared.
With a display of ten artists and materials from The Women's Art Library and The Archive Collection of Lynda Morris, Chapter Two should feel somewhat overwhelming- however in the context of the previous chapter, the space feels a little bare. This means the viewer is able to navigate the gallery space more freely, giving prominence to the monitors and projections, and perhaps highlighting Chapter One's possible shortcoming in being too busy an exhibition all together. This time round we are met, in the entrance to Cooper Gallery project space, with Mary Kelly's display of solidarity: in a slow merge of past and present, scenes of women in demonstration are projected on to the wall facing the entrance, providing a suitable introduction to an exhibition setting out to be fiercely activist.
Above the stairs is a recording of Anne Bean's band Moody & The Menstruators; headphones roar a slurring cover of The Troggs' Wild Thing, reminding that there is fun in protest too. Just in case you're worried it's all a bit second-wave, Tuulikki's 2016 piece in the upper foyer is a recording of a performance of bird-like sounds on the Isle of Eigg (which incidentally seem to ring rather eerily throughout the whole exhibition) and is a contemporary and refreshing piece to have situated in the context of feminist performance of time gone by.
In the main gallery, Cullinan Richard's mirrored scaffold structures, which were carried through from Chapter One, stand in the space with surreal presence now that there is less on show. Linder's 'The Ultimate Form' is a projection of a dance performance alongside costumes featured in the performance, the presence of which is so great you might mistake the other works in the room to be somehow in support of Linder's. Nevertheless, the room is an intriguing torrent of video art from Linder, Rose English, and Georgina Starr, and if you are finished with watching performances there are plenty of relevant materials to read in the 'study area' in the upper foyer.
What's most interesting about Of Other Spaces is the ability to provide a narrative that the viewer wants to be a part of, and indeed becomes a part of. The time-scale of the entire programme of exhibitions and events is broad, and those who got involved in the workshops and opportunities in the first chapter will find references to such displayed in this part (For example, a table including outcomes and resources from Laura Guy's Reading Group which took place with members of the public in the gallery in November 2016).
Perhaps this exhibition is what activism in a contemporary art context looks like; Cooper Gallery are not alone in exploring key feminist artworks and seem to have chosen a time to explore these themes in which the need for political activism is crucial. Echoes of Of Other Spaces can be found in exhibitions like Feminist Avant-Garde Of The 1970s at the London Photographer's Gallery with cross-overs in content and clear parallels in activist themes-  showing that Cooper Gallery's programme is as contemporary and relevant as ever – a true asset to art in Dundee, and the country. What is happening here is more than an art exhibition, and more of an extended event, consciously posing: Where does gesture become event?
Fiona Verran