Redomones and Eye to the Future
Tweet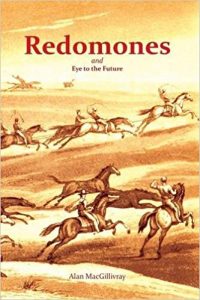 Scots literature lecturer and well-lauded poet Alan MacGillivray brings us his fifth collection inspired by Robert Bontine Cunninghame Graham, the Scotsman who rode with gauchos and was one of the SNP's founding members.
MacGillivray's interest in Cunninghame Graham's life was triggered in 2011, while he was co-editing his subject's Collected Stories and Sketches. In this current collection MacGillivary continues his creative interest in Cunninghame Graham and explores his ideas of independence and social justice through poetry in Scotland's current political climate.
Unsurprisingly MacGillivray is a two time winner of the McCash Scots Poetry award ( 2005 and 2013) and "the saga of fnc gull"  from his third collection was selected as one of the Scottish Poetry Library's Best Poems in 2009. At the centre of this collection are the values that inspired the notion of a fairer society and a self-governing Scotland, ideas shared with Cunninghame Graham, to whom the collection is respectfully dedicated;
Una tierra sin caballos, un pueblo sin sueños
(A land without horses, a people without dreams)
MacGillivray sets the tone for the book filled with excitement for the future and a longing for political freedom.
The collection reflects the voices of both Scotsmen, gathering poems in English, Scots and Spanish. Some are written in a long stanzaic format, which are interspersed with sonnets and even a concrete poem "Stone Poem". These variations create an exciting mirroring of both Cunninghame Graham's erratic journey and that of Scotland's present political landscape.
Throughout, both men's depth of feeling for their homeland is reinforced. Through some of the poems we are introduced to the poet's other heroes and teachers: Norman MacCaig, Edwin Morgan and James Muir among them. The poem "Maighstir Norman" is written in tribute to MacCaig, maighstir being Gaelic for master.
this highland landscape of his fathers
without a lean Zen Calvinist
domaine striding before [.]
MacGillivray's esteem of MacCaig's work is clear. The poet refers to "landscape of his fathers"  – recognising landscape itself is inherently MacCaig. Likewise, "Zen Calvinist" affirms the elder and so culturally Presbyterian poet's Buddhist-like serene connectivity with the land. Near the end of the collection is a series of fourteen poems entitled Eye to the Future, written in response to the 2014 Scottish Independence Referendum.  The poet's opinions are clear.  In this poem, sharing as it does a title with some of Goya's most celebrated and nightmarish works, we face:
The Sleep of Reason

Another day, more threats and gibes and lies –
you'll be alone, you'll be without a friend,
you'll all be poor, unable to defend
against Fate's ills, foul weather, plagues of flies.
MacGillivray uses repetition to emphasise some of the rhetoric surrounding the campaign. He references the biblical plague to illustrate the depths of fear and scaremongering he observed throughout, demonstrating his opinion of how that time unfolded. He is a bold poet with a gift for communicating social issues without preaching in his subtle use of metaphors, anecdotes and allusive language.
As well as the national, there is the intimate: "Sheep in Harris" considers a family where the mother has lost a child. The poem depicts each family member and his or her coping strategy. There's an "old guy" who is "firmly settled", "two young" boys, full of "testosterone" and a "desolate mother", "unable to leave" Finishing on  "Sheep, eh?" the reader is left with many questions.
In essence this is what I love about this collection: Redomones and Eye to the Future certainly offers us the poet's opinions on hierarchies, politics and social justice, but it is also deeply personal and both clever and witty, and his poems have the capacity to communicate real emotions. So we have the vast and the tiny, the national and the international. In MacGillivray's referencing of one of the SNP's founding fathers to unpick 2014 we are offered an interesting template. Arguably, it is no less pertinent now.
Katie Parkin