Worksongs: Poetry and Prose 1980-2008
Tweet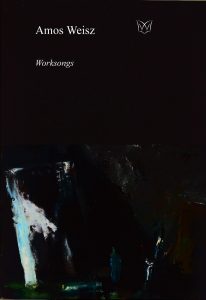 This collection of poems and writings provides a little window into the mind of a thinker obsessed with writing. Amos Weisz, bilingual European – he worked, lived and thought in English and German – was a philosopher and mathematician by education. He wrote poetry, prose and drama, translated academic prose and the German culture in the form of Bertolt Brecht, Paul Celan, Heiner Müller and many more.
This collection focuses on his English work, bringing to light a selection of the vast amount of poetry and prose found on Weisz's digital legacy – hard drives and computers – after his death in 2008 at the age of forty-six. These poems span his whole adult life, the first pieces written in the 1980s and the last in 2008. As this long timespan suggests, there is a huge variety of themes and approaches, as well as hints of Gestalt shaping various poems. This apparent lack of conceptual unity, at first sight only sublimated by the editor, after close consideration shows an organic evolution. In his writings, Weisz fought (and simultaneously expressed) the clinical diagnosis of his mental afflictions. His own term for what he had was "madness".
The structure of this collection and the writings is less linear, less straight forward, less polished than what we might expect from an intellectual philosopher. But at the same time it is more evolutionary, dynamic and organic. If the dynamic and the organic is not taken to be synonymous with the natural, harmonic or continuous. It is the breaks and rifts, shifts and eruptions that make the organic heart of Weisz's intellectual poetry. Take, for example, "Care":
There was light, but of what kind. Certainly not the scorching light of a technical sun. Nor the Buddhist light of equanimous love. Rather the light sheaves of care were at work here, that with the penetrating yet gentle arrows of their nature communicated something new to the brain. But how to deal with such an epiphany? How to provide a world condemned as void the first sacrament of care?
At the heart of it all there is clear, methodological thought, a logic tying all these variations together. At heart, the "mad writer" is also a thinker, a philosopher asking the question of questions: Why are we here? Is there a God, a meaning, a sense, to life?
How is belief represented?
Is it a code written in our minerals?
Then to what do we assent?
And from what?
Riddle on riddle.
These poems take one on a peculiar path into the emotional depths of the highest and most abstract reflections. It is as if one could feel philosophical questions in Weisz's lines instead of merely asking them, reflecting upon them, analysing them. Don't get me wrong, there is plenty to reflect on, to analyse and to bring to terms, but doing so will not exhaust what is, or can be, present in these lines, and in these words. There is always a little more there, if one dares to walk a little further into the light of rationality, if one dares to feel arguments a little deeper.
Tina Rock