Tweet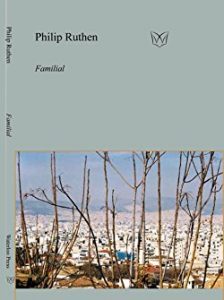 Philip Ruthen's latest collection, Familial, is published by the Waterloo press. This is his third collection after Jetty View Holding and Apple Eye Feat.
Familial explores a multitude of landscapes, both psychological and physical. The poems articulate strange realities, whether it is the voices of inmates of psychiatric hospitals ("Prelude (Cluster)"), the "curiously satisfied distress" of bereaved family members ("Familial, Epirus"), or the incoherence of a man suffering from drug withdrawal ("Remembered, a word to the wise"). The physical landscapes of the poems also shift, from Surrey in "(Prelude) Cluster", Kalamata in "Not dreaming, Kalamata", Sorrento in "Decades", Georgia in "Georgia on my mind," to a mythical place in "Footnotes". This sense of movement, of ceaseless and unpredictable transformation, is a central theme of the collection. And it inspires Ruthen's experimentation with patterns on the page. While not wholly concrete, the poems in this collection derive as much of their meaning from how the typography interacts with the white space, as they do from sounds and images.
For example, in the first poem, "(Prelude) Cluster"-
in case our translation to words and our physical forms
without sound
are not heard;      here, above comparisons
drag to one side free-standing or cross-boomed barriers
skirted – security's blind, lets all shapes pass . . .
we fill the signingstationlongergrass

re-cognisable

re-assemble.
The poet is as keen for the physical form "without sound" to be acknowledged, as he is for the rhythms to be heard. In this poem, the sound is both Latinate and incantatory. And the typography, with its run-on words, creates an effect of otherness and hysteria.
"Footnotes," is a single-sentence poem, broken into short lines –
At the intersection of a circle
there is energy
dancing
walls fall open
the meeting place
is serene
the well is of clear water
and the land enclosed
by visceral energy
is good land
with mimosa for healing. . .
The syntax and lineation create an interesting cross-weave of rhythm, even as the structure slows the reader's eye, enabling one to attend to the poem's idyllic imagery.
Another poem, "Remembered, a word to the wise", begins in lucidity. The speaker waits alone for the last train on a lonely platform. Opposite, a man exposes himself. And then "Mogadon withdrawal" sets in – the language mirrors the chaos that the speaker's mind descends into –
     . . . I'm sway –

ing pole to pole in Mogadon withdrawal unknown to me, that's
what the worlds is
there must be foolish.
In Familial, Ruthen often renders reality strange, through a concerted and intelligent use of both syntax and typography. But, at times, it seems that the art scatters the reader's attention instead of focusing it. Edward Hirsch has suggested that poetry is an invitation to the reader to inhabit a single reality.This is surely every poet's ambition.  And Ruthen is well aware of this. In "Future", he writes,
No, I am not a problem
I am personal, pre-fabricated. . .
… I am
Moveable, and moved
By the same impulses that stir you [.]
However, Familial often seems to prioritise artistry over effect, intellect over emotion. These pyrotechnics are fascinating to observe but we cannot warm our hands with them. That said, Familial is an intelligent and artful collection by a poet who clearly revels in his craft.
Skendha Singh