Tweet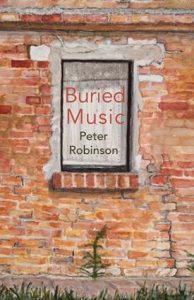 her black door like an omen […]
As the title implies, Buried Music resonates with losses, being filled with many kinds of grief. The collection addresses bereavement (especially that of his father) principally, but also it considers the poet's own challenged and diminishing health. For all that, Buried Music mines the quirkiness of unexpected hope found in the quotidian. Through reading and from knowledge, Peter Robinson has the ability to delve deeply, to write in a stratified way, while making the top layer at least accessible to most without sacrificing his poetry's considerable intellectual integrity. He provides endnotes, which illuminate and open out his epigraphs and frequent allusions. These offer benefits for subsequent study, but it is worth reading his poems first without these aids. That separation allows his notes to support rather than interfere.
Feeling fragile, a memory of health
it's my old self rehearsed
in piecemeal efforts at improvement[.]
These highly patterned poems examine the landscape, close quarters, music and, particularly, light to map the most painful of human experiences. Windows in particular are a recurrent motif, being a symbol of both links and separation. Consider:
one slant, mitigating ray
backlights the whole equivocal scene.
Or…
Across the slatted window panes
like melted music on a stave[.]
These are poems of rigorous examination, containing the essence of a journey always. Even in his highly-evolved poem sequences, there is a sense of travelling from place to related place. In "All Times are Local", the poet moves through place and time, starting with the familiar but powerful jigsaw metaphor, travelling via the connections and separations of bridges, airports, clocks (and yes, windows), before returning to gather these elements in the final stanza which " interlocks pieces".
Robinson's physical travels take him from Greenwich, the Netherlands, through London parks, alongside sometimes Dickensian estuaries, and it is perhaps when his journeys have veils of time travel layered into their lines that his strongest moments occur. At idyllic northern Italian locations – Lake Garda, Portovenere and more – his five poem sequence "The Late returns" not only observes these photogenic landscapes, but it sketches the present, in nature and in his company, sharply. In these short poems (including two sonnets) he finds the space to recall Lawrence, and to evoke the area's Fascist past:
unruffled old cormorant,
he's checking out the state of things
from his sentinel point on this late summer day.
Robinson is indeed a master craftsman in his dense layering, and his absolutely certain use of form. His publishing credits say more than this review can hope to cover; this is his sixteenth full collection but he has translations, significant works of criticism and more to his name.
Buried Music is accomplished poetry, fully deserving of accolades – Poetry Review names him as "a major English poet" and London Magazine describes him as being "at the height of his powers". His is an undeniably significant achievement; yet while I offer enormous respect, I felt keenly there was for me something tired and somehow jaundiced in the collection's tone. Perhaps that is understandable here, and should be viewed against his very skilled use of form, his economy of phrase, and his remarkable ability to subvert clichés and to make puns in ways which are far from cheap. Yes, there is perhaps an uncomfortable bravery in how he approaches his "odalisque" daughter's puberty "intimidated, still,/by a woman neither devil nor/ your daddy's little girl "; yet there is a but .  While I came away from this collection very conscious of its fine honing, I was alas not captivated. Perhaps the inescapable and inevitable sadness of the subject matter, laced with the poet's palpable life weariness has affected my reading. For my tastes, his own painting on the cover has not served his words well. However, that is only my reading now.  I would not be so foolish as to abandon these poems.
Beth McDonough