In the Orchard: Poems with Birds
Tweet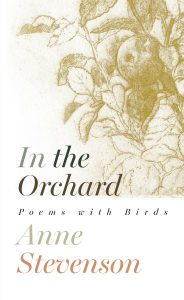 Born in Cambridgeshire to American parents in 1933, Anne Stevenson has over sixteen published collections to date of predominantly lyrical works. Although her early adult years were spent in the United States where she graduated from the University of Michigan and published her first collection, Stevenson later returned to the U.K. to live permanently. She settled for a brief sojourn in Scotland in the seventies, and was elected as a Fellow of Writing at the University of Dundee before heading south of the border. She went on to publish extensively with Bloodaxe Books, and received a number of accolades including the Lannan Prize for a Lifetime's Achievement in Poetry in 2007. She now resides in Durham, and is also notorious for her controversial autobiography of the American poet, Sylvia Plath (Bitter Fame: A Life of Sylvia Plath, 1989).
In the Orchard: Poems with Birds comprises a collection of short and medium-length poems inspired by the sights and sounds of birds, particularly common passerine species such as the characterful and enigmatic blackbird. Indeed, in her introduction Stevenson reminisces about her first encounter with such a songster in an apple orchard outside the window of her Cambridgeshire lodgings. The feelings and childhood memories evoked by this happenstance event sets the tone for the later poems. Although her collection alludes to a number of ecological and scientific facts relating to birds, the predominant focus is upon a more holistic view. The spiritual connection and symbolism of birds is intimated throughout, and the reader gains an honest and rather entertaining view of the true character and behaviour of a number of common species. She also explores our relationships with birds, and the humorous ways in which we often address them. In "Crow Omen", for example, the carrion crow is affectionately referred to as "Mr. Crow" and its symbolism of imminent death is referenced in relation to its stalking of the discarded prey of a hunter in the Welsh valleys.
Several of the poems are illustrated with black and white etchings by Alan Turnbull. Turnbull employs traditional printmaking techniques, giving a rather hand-made quality in the resultant image, and often incorporates ecological details and diagrams to emphasise the character of the bird in question. One of my favourite etchings accompanying Stevenson's work is paired with "Bird in Hand", a short narrative about a beautiful and vivacious little wren. The "needle beak and pinhead eye" are mirrored in the illustration as they are in nature, and the erect stance of the miniscule creature's tail depicts the posture often adopted by this rather cryptic species.
Stevenson's collection spans more than fifty years, but the ordering is determined by memory and reminiscences of time, place, and person rather than by chronology. "Resurrection" is one of her earliest pieces and describes her memories of the awakening of spring, "a green light fallen like snow". Again, birds appear as the protagonist; the melodious voice of the chaffinch evoking feelings of new beginnings in both the poet and reader alike. Similarly, memories of her mother and her time in Scotland are stirred by the appearance of the siskin; a lively and colourful finch species found in abundance here, but absent from her native U.S.A. The flickering of the green and yellow tones of this industrious bird appears like a flashback of her beloved mother, as this little extract attests:
He pleased me for your sake –
Not so much as he would have pleased you.
The appearance and chatterings of little birds often stir very similar memories, and In the Orchard is delightful in its description of not only the physical characteristics of the birds, but also those sharp observations that a keen bird enthusiast will recognise instantly. Even for the ornithological novice, this collection pairs emotion with the familiar and sounds of birds and their environment harmoniously, and cannot fail to stir memories, whether they be welcome or melancholy.
Angela Gillies