STAY WITH ME (SHORTLISTED, 2017 BAILEYS WOMEN'S PRIZE)
Tweet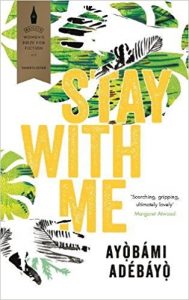 Although Yejide Ajayi is a confident and educated woman with her own successful business, the society that she lives in recognises only her inability to conceive a child. "Women manufacture children," her mother-in-law reminds Yejide, "and if you can't you are just a man. Nobody should call you a woman." Shortlisted for the 2017 Bailey's Women's Prize for Fiction, Ayòbámi Adébáyò's debut novel Stay With Me therefore chronicles a marriage where childlessness and loss – and the secrets and lies that surround these tragedies – stretch a couple's love to its breaking point.
Yejide and Akin Ajayi meet and fall in love in eighties Nigeria, and the story of their relationship spans almost thirty years in a country frequently beset by upheaval and unrest. While the political situation serves as an occasional backdrop to the story, it is eclipsed by the couple's very personal heartbreak. Four years after their wedding, Yejide's continued barren state allows Akin's family to pressure him into taking a second wife, and his mother begs her devastated and unwilling daughter-in-law to move aside and make room for this unwelcome interloper in her marriage:
"You have had my son between your legs for two more months and still your stomach is flat. Close your thighs to him, I beg you… If you don't, he will die childless. I beg you, don't spoil my life. He is my first son, Yejide."
Forced to take increasingly desperate measures in her attempts to conceive and thereby save her marriage – measures that include extreme fasting, prophets and miracle-seeking – Yejide is eventually pushed to the limits of her sanity by an imagined pregnancy, and the sickness and repeated deaths of the children that she does eventually birth. But to be a 'good wife' in patriarchal Nigeria is also about the unquestioning faith that Yejide places in her husband. Her consequential blindness to his very human flaws, and his unwillingness to risk his masculine status and Yejide's love, forces Akin to extreme lengths in order to protect himself from a secret that he cannot bear to acknowledge. Throughout the narrative the reader is moved continuously between past and present, building up the story's suspense while also allowing its secrets to slowly unfurl, just as they do for Yejide. She ultimately comes to realise that "the biggest lies are often the ones we tell ourselves… It was convenient to believe my husband was trustworthy; sometimes faith is easier than doubt." However, in allowing her writing to give a narrative voice to both Yejide and Akin, Adébáyò allows Stay With Me to transcend its Nigerian setting and more widely explore the problems and pressures that can surround different cultural constructs of what are accepted masculine and feminine roles.
Despite its sombre subject matter Stay With Me remains a vivid and compelling novel, populated with the chattering, rivalries and gossip of the colourful characters that live in the homes, markets and salons of Adébáyò's Nigeria. Even during the novel's darker moments there are also scenes of outrageous comedy, such as the time when – furious to be presented with her husband's new wife – Yejide serves her and their interfering family a meal of three- day-old rotten beans. "What did you feed them?" Akin later demands of her. "You know they all have diarrhoea now? I had to park by a bush for them to shit. A bush!" And, at the end of the novel, for Yejide at least, hope remains in the form of an unexpected resurrection, despite all the sorrow and loss that she has endured.
(Ed – read an extract from the Baileys Women's Prize website.)