DJCAD Degree Show 2017: Animation
Tweet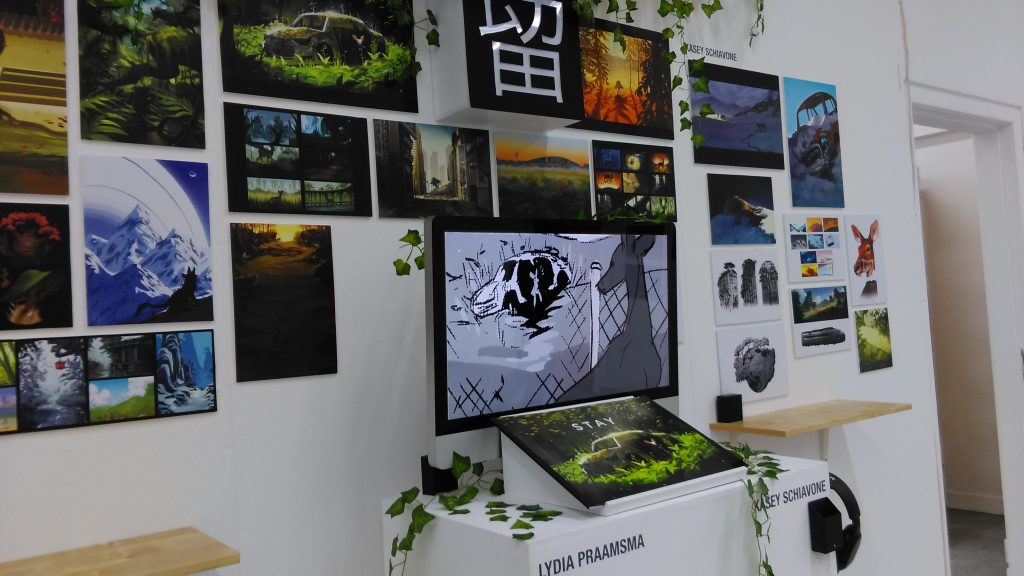 DJCAD's annual degree show always attracts an astounding volume of foot-traffic; students and professionals, young and old alike all attend to peruse the latest offerings of Perth Road's cabinet of curiosities. Yet as diverse and wondrous as the college's sprawling exhibition may be, from the intricate designs of the jewellers to the conceptual marvels of Fine Art, there is a unique and universal appeal to the work housed on the Crawford Building's second floor: Animation.
As you enter the corridor, from either end, notice the figure studies that adorn the walls. It is easy to forget that the successful caricaturing of the human form requires an informed understanding of its underlying anatomy, but such an understanding is more than evident in these astutely observed sketches; Deian Georgiev's life drawings, sensitively rendered in charcoal at the East end of the corridor, are particularly charming.
Over the usual hubbub of visitors, drifting by in susurrating groups, can be heard another, louder noise: that of the floor's main attraction, the makeshift cinema of the Crawford Boardroom that houses the final projects of this year's graduate animators. This room, darkened and crowded with desk-chairs, shows the half-dozen films on a loop, allowing viewers to slip in and out of the improvised theatre at their convenience.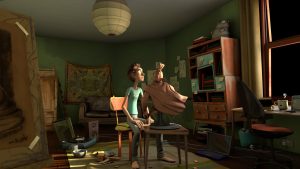 The films on offer this year are, as always, as artfully crafted as they are diverse. The centrepiece, The Crossing, is a polished 3D group project featuring work by Karolina Tomaszewska, Thomas Goldsworthy, Deian Georgiev, and Fraser Thomson, constructed around the simple premise of an art student struggling to carry a sculpture from his home, across a busy road, to his degree show. It's a light-hearted piece, well-realised, which communicates a rather on-the-nose concept in the slapstick language of Looney Tunes – it was certainly a hit with the kids in the audience!
Another hit with its absurdist humour was Alex Heywood's Füd Chayne, in which a series of increasingly bizarre and colourful characters – including one Donald Trump – devour one another in quick succession. Viewers familiar with Justin Roiland and Dan Harmon's Rick and Morty may observe a kindred spirit in Heywood, though those who are not will be equally appreciative of the piece for its hallucinogenic visuals and abject silliness – the world 'Reinhard 7', one suspects, is named after the department's well-loved tutor Reinhard Behrens.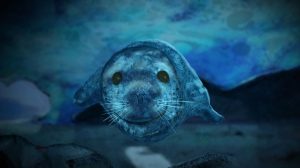 Stand-out among the number of 2D films in this year's showreel is Fiona McAndrew's Swimming in Your Eyes, a short piece which takes its cues from wildlife documentaries. It features a wonderfully textured storybook aesthetic, rendering her chosen subjects – a penguin, a seal, a pigeon, and a whale – in such a way as to at once honour and enhance their natural beauty. She achieves this striking aesthetic with the remarkable combination of offset printing, a process involving ink and metal plates, and animation software. Her process, detailed in the studios opposite the Boardroom, makes for a fascinating read.
Indeed, the studio spaces are where the real body of work produced by this year's animators is housed. The various stations contain monitors featuring each artist's individual showreel, while the walls are hung with concept art and designs for works in progress. These displays are the animators' opportunity to showcase their individual strengths and identify their roles within the various projects on show. Of particular note is Lydia Praamsma's display, against the West wall, featuring an animatic and a production bible for a short film titled Stay – the set piece of a deer and a car, reclaimed by the undergrowth of an idyllic forest, gives a taste of her lush, painterly style.
Likewise, this review can offer only a flavour of the offerings on show this year and can but recommend readers seize the chance to see these works, both in full and broken down into their creative processes, before the Degree Show's end. Common to this year's crop of graduate animators is the creativity of the concepts that underpins their work, a quality of paramount importance in their chosen industry which will undoubtedly serve them well.
Ewan Wilson