DJCAD Degree Show 2017: Fine Art (Level 6, Crawford Building)
Tweet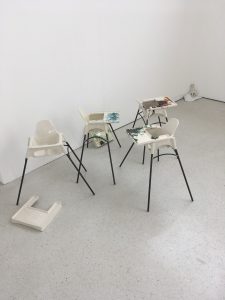 It has been said that you know good art when you want to spend time with it. Plan to spend a great deal of time at the Crawford Building's Sixth Floor; it has amazing art. Several themes run through the floor: life, death, and the organic cycle of this repetition. A love of nature and people is also evident, as is cleverness, playfulness, and craftsmanship. There is also a representation  of social interaction. Cat Hills has a well-made exchange with monsters and the imagination, complete with a book. Expect the unexpected: peer into the perfectly made set of drawers from Daphne Groves – don't miss the wee giraffe – and look at the metal and porcelain high chairs. Ewan Arthur works with abstract images of the internal body, and a coffin; I won't give this away, but do have a peek.
This is a show that demands your attention. Emma Carr has a lot to say – pay attention to the strike she is holding in protest against her social experiences. James Alexander Mackenzie has a narrative running throughout his work. Don't miss his invitation to look on the top shelf of the wee cupboard: it is a treasure trove. Ross Jordan uses intimate prints to join the conversation, understated and well crafted. Spend some time enjoying the work of Cassia Dodman and her fun kinetic pieces. There is a playful and mesmerizing quality here. Catch the shadows on the wall of Doaa Yule's space, where she has made clever useof technology to question education, using movies, emotion and tricks of light.
The life of the artist is the central premise of Jennifer Lightbody's work, experienced through her diary, which is visually represented and accompanied by audio of her reading. You feel her panic and stress, but she includes some funny bits as well. She has a quote on the bedcover by Parcel Mroust. Enjoy the expert work of the organic themed printmaking and porcelain work of Drew Mackie. His work is immaculate and rich, leaving behind the temporal nature of life in your mind; its powerful beauty remains with you. Similarly, the gorgeous stone lithography of Calum Wallis features line-work so beautiful that it feels as if you have been transported into nature itself. Speaking of transported, take a ride in a spaceship of resistance in Susie Buchan's imaginative space, a timely reminder to resist the status quo.
The virtual reality of Rhoda Ellis' piece is a superb experience – I won't give it away. A handmade loom by Rhona Jack, a centrepiece, is made from found materials, and on the loom is a tapestry full of geometry and colour, a good juxtaposition of old and new. Emily Watson's work comes to life in a variety of portraitures of the band, a group, and a group of friends.  You can tell by the video that she nailed it; their personalities sparkle in her work. Enter the space of Maya Wotherspoon and feel its museum-like quality, inviting you to dwell, to study.  The effort to converse about aging is so powerfully visually represented.  Exceptional from its idea to conception, do not miss Amy Cranford's pieces using light and dementia and brain maps. I will tell you no more; it presents itself stunningly. Sylvia Tarvet uses multiple disciplines to express the lives of women. Her brilliant ekphrastic work evokes a line from a poem by Edith Sitwell: 'And all in the end is harvest'. And, so it is on the Sixth Floor.
Catherine Alexander