DJCAD DEGREE SHOW 2017: INTERIOR AND ENVIRONMENTAL DESIGN
Tweet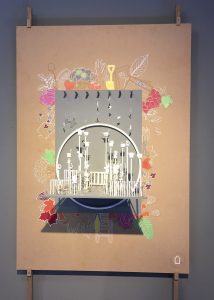 On touring the Interior and Environmental Design display at his year's Degree Show, one is immediately struck not only by the quality of the exhibits, but by the skill and forethought which has gone into their arrangement. Instead of the table-top models which we are used to seeing, the students have been challenged to produce wall-mounted three-dimensional models which jut out like sculptures from grey painted backgrounds and immediately engage the viewers, drawing them into the miniature environments which the students have created.
These environments are highly imaginative, well-illustrated and, above all, socially aware. Students on the course are required to engage with a range of relevant organisations and stakeholders when responding to the briefs they have been set. Thus Melissa Mathieson, in redesigning the Day Ward of Tayside Children's Hospital, has worked not only with hospital experts but also with primary school children to gain their views on what would make them feel better. Martha Andrews displays similar concern for patients' emotional well-being in her project Headspace, which aims to provide, alongside the clinical environment of Ninewells Hospital, a series of rooftop and courtyard escapist spaces based on the idea of the Scottish bothy – here implemented in three themes, Woodland, Mountain and Coastal.
Kirsty Meechan's Blethergate uses the location of Dundee's dock sheds to provide a transformative place for unpaid carers, giving them support and opportunities to learn skills – again the designer has engaged with a range of organisations including V&A Dundee and Dundee Carers' Centre. Lauren Elizabeth Dargo has re-invented Dundee's currently somewhat run-down Reform Street with pay-as-you-can-afford restaurants using donated food, and urban planting based on the allotment model; her work addresses the stigma of the foodbank by reconfiguring the issue of food poverty into an environmentally-conscious high street facility.
But the show is not confined to readily recognisable local places. Other students have addressed the refugee problems of the Middle East; Amy Forbes' project creates a Community of Tomorrow, strengthening relationships within refugee camps by the inclusion of community housing, work, education and sports facilities, while Hazel Fraser Harris' wittily named Damas Scene envisages a youth community dance centre within the Souk Al Hamidiyeh in Damascus. Meanwhile Maria Pace's proposal for a design museum in Malta makes dramatic use of roof construction to create ever-changing areas of light and shade within the building, reflecting Malta's high levels of sunshine and its distinctive environment.
Notably imaginative projects using new technologies include the displays by Keiran Connelly and Mavis Frempong. Connelly seeks to make classical music more accessible to younger people through an installation which employs new technologies to provide more social interaction with 'old' music, and includes the use of a range of unexpected objects such as bicycle pumps and spray paint cans. Frempong envisages the other end of life, proposing in The Luminary a building which encourages dialogues about death as well as respectful storage honouring the deceased, whose bodies are reduced to 50mm cubes of dust through the use of Ecolation. This recently developed environmentally friendly method uses far less energy than conventional techniques such as cremation.
In summary, the Interior and Environmental Design Degree Show demonstrates a high level of social awareness and uses imaginative approaches to address many aspects of our contemporary life. The students' engagement with other organisations and individuals has resulted in a group of projects which provide well-developed answers to some of society's greatest problems, and it is to be hoped that the talent seen in this degree show will flourish beyond the university to enable us to overcome some of these challenges.
Cate Newton