DJCAD DEGREEE SHOW 2017: ILLUSTRATION
Tweet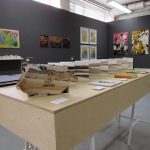 This year's Illustration show is a colourful affair of books and prints interspersed with quirky objects making the discipline difficult to define. Each of this year's graduates has created diverse portfolios showcasing a variety of skills from bookbinding and screen printing to digital drawing and ceramics.
A traditional interpretation of illustration is that the artist creates drawings for a packaging design, imagery for a colouring book or packaging, or depicts a historical or unusual story. In this respect the department has succeeded with a number of skilful designs. Kate Polley displays a delightfully whimsical Welsh 'Map of Llareggub by Dylan Thomas'; Erin Miller creates scrolls of mythological depiction and Shona Heaney brings new life to Roald Dahl's stories with vivid digital recreations.
I am particularly fond of Kali Wallace's portfolio which houses a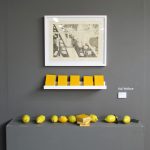 collection of anecdotes from Dundee's past. The artist has demonstrated a variety of mediums within her practice to communicate these stories in a playful way. One display concerns a story about Tay Bridge toll operators and a lemon tree approached in an imaginative way. The work comprises a print, concertina book and ceramic Jif lemons.
Like Kali Wallace's brightly coloured lemons the exhibition sings with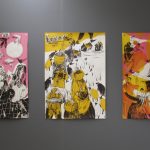 colour. Another eye-catching display is the lively collection of lithographs by Phoebe Roze (Jones) depicting her life and Gaelic culture in the North of Scotland. This set of three lithographs: The Dawn, The Shieling and The Ceilidh are a beautiful, playful representation of life as a crofter. The centrality of the artist's identity was fundamental to the success of this work.
This approach to illustration is, I believe, the most intriguing aspect of the discipline. With this in mind two artists really stood out in the show.
 Jasmine Holt is an artist showing a clear interest in the natural and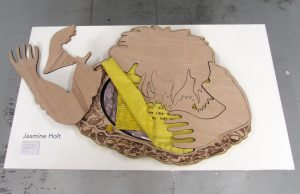 historical environment of Scotland. She has created a practice around this theme by responding to selected sites. The projects respond to her time in and research of an environment, but differ in medium according to the place. On display is a colourful landscape print depicting marks of the hillsides in Glen Doll. Jasmine is also showing one of her trio of books concerned with immigration in the former fishing village, Auchmithie. By spending time in these places and gathering objects, sketches and marks Jasmine has created a beautiful authentic collection.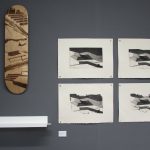 Another stand-out artist in this show is Cat Loots. Cat's work features skateboarding and she has created a number of hand-printed artist's books concerning this passion.  The artist fully engages with her subjects by creating prints exploring the skating environment and experimenting with how marks can be created. On display is one of her books 'Skateboard Wheel Print' which, as the name suggests, has been created using only her skateboard. The work references Robert Rauschenberg and John Cage's collaborative 1953 print, 'Automobile Tire Print'. As an artist interested in mark making Cat has expanded her practice,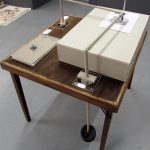 creating a kinetic sculpture 'Seismic Drawings'. Her 'drawing machine' is inspired by the Comrie Earthquake House, where marks are made in response to the tremors and movement of the land.
Overall the standard of professional work on show within the department is fantastic. However, I would suggest that these latter artists have pushed the boundaries of illustration, leaving behind a commercial aspect for a more intriguing personal approach to the discipline and perhaps suggesting a new identity for the Illustration department.
Katie Parkin