DJCAD Degree Show 2017: Fine Art (Matthew Building Second Year studios 1,2,3,4 and Hub3)
Tweet
Matthew Building, Level 5
20th – 28th May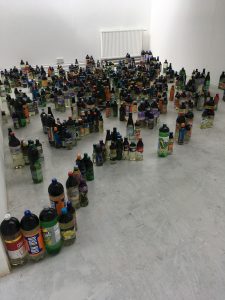 Wandering through the Fine Art studios of the Matthew Building, we come across a variety of works, ranging from deeply personal documentations to participatory artworks, each with their own equally strong statements concerning social and environmental issues.
Arriving in Hub 3, at the end of the North Bridge between the Matthew and Crawford buildings, we step into time-based artist Murray Renton's "threateningly calm" waiting room. The uniform design of offices and medical waiting rooms and his sterile, futuristic vision indeed take us into the artist's "delirious corporate dreamscape". We can take a look into the virtual reality, carefully supervised by the "Perception Management Technology", which sounds almost Orwellian.
James Wylie's space is similarly alarming: he creates a very convincing fallout shelter that feels claustrophobic with the pressing presence of the Cold War era. The sound of air raids takes us back in time. While he provides a very important message with this "historical reminder", he also proves his craftsmanship and visual engagement through the videos and screen prints, not to mention the extensive research that's behind the exhibited material.
Gayle Watson's thought-provoking work is of equal importance: she intends to challenge society's hypocrisy with her plastic bottles filled with used car oil. Viewers can't hide from the questions she raises about our behaviour regarding pollution and consumption, but most importantly she visually and verbally encourages us to think about what is behind what we can see, to question what we are presented with: that is the key to a conscious society that is indispensable for (positive) change. Make sure to read her booklet as well!
Shannon Murray and Stacey Pover both invite the public to take part in the making of their artwork which reflects on the ways of making as well as the act of creation. Visitors can take their time to contribute to Murray's gigantic pompom, while on Pover's side you are free to express yourself, as she is interested in adding your personal touch to the artwork.
Abbie Dobson takes documentary filmmaking to the next level with her observation of personal family life. She presents us with something quite familiar in an artistic setting, showing glimpses of domesticity and ways of coping with life itself. She goes through memories and photos, reconstructing happenings, making the viewers think about different perceptions of the "same" reality.
Kane Mclay doesn't want to give obvious answers or verbal guidance to his paintings, but he doesn't need to; the works speak for themselves. His use of fascinating colour combinations and dynamic marks that capture the constantly moving and changing shapes of the human inside and outside turn his works into an almost physical experience. Some paintings are almost Francis Bacon-like abstractions, while he also clearly demonstrates his strong anatomical knowledge.
Something new shakes us up in every corner of the Fine Art exhibits in the Matthew Building. It is well worth exploring these studios!